Whether you opt for fresh or dried milk, you'll contribute to your daily recommended dairy intake of 3 cups, as established by the U.S. Department of Agriculture. Fresh milk has superior flavor -- you'll definitely notice a difference in taste if you drink plain reconstituted milk -- but it has a shorter shelf life and higher cost than dry milk. Both types of milk offer significant nutritional value, but fresh milk serves as a slightly better source of some nutrients.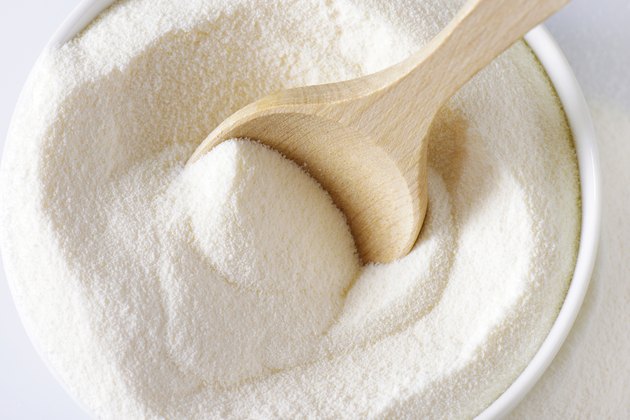 Nutritional Similarities
Powdered and fresh milk share several major nutritional similarities. A 1-cup serving of fresh non-fat milk or non-fat milk made from powder contains slightly more than 80 calories. Both milks contain roughly 8 grams of protein per serving which contributes a significant amount toward your USDA-recommended daily protein intake -- 56 grams for men and 46 grams for women. Powdered and fresh milk also offer ample amounts of calcium: between 28 and 30 percent of your daily calcium requirements.
Vitamins B-5 and B-12
Fresh milk has slightly more B-complex vitamins, particularly vitamins B-5 and B-12, though powdered milk also offers both vitamins. Both nutrients contribute to the health of your nervous system. Vitamin B-5 also helps maintain healthy cell membranes, while B-12 supports healthy oxygen transport. You need small amounts of both nutrients daily: 2.4 micrograms of B-12 and 5 milligrams of B-5. A cup of fresh milk contains 1.2 micrograms of vitamin B-12 and 0.9 milligrams of vitamin B-5, while an equivalent serving of reconstituted powdered milk has 0.9 micrograms and 0.8 milligrams of vitamins B-12 and B-5, respectively.
Phosphorus and Selenium
Fresh milk also provides a little bit more phosphorus and selenium than its powdered counterpart. Both minerals play a role in enzyme function, which supports your cellular metabolism. Selenium is also involved in thyroid function, while phosphorus is used to maintain healthy cell membranes. A serving of fresh milk contains 7.6 micrograms of selenium -- 14 percent of the recommended daily intake -- while an equivalent serving of reconstituted powdered milk offers 6.3 micrograms. Fresh milk also provides 247 milligrams of phosphorus, or 35 percent of your daily needs: slightly more than powdered milk's 227 milligrams.
Uses in the Kitchen
For the best flavor, you should probably use fresh milk as beverage, but you can turn to powdered milk for recipes. Using reconstituted powdered milk in your baking will lower your food preparation costs without significant affecting the food's taste. Alternatively, use reconstituted powdered milk as a base for your smoothies; once you've added other ingredients, such as frozen fruit, you won't notice much difference in flavor.