Soft drinks, many of which contain high-fructose corn syrup, are a major source of added sugars in the American diet. Avoiding soft drinks that contain fructose is one way to reduce your intake of added sugars and empty calories. Soft drinks labeled as diet or those that have no calories are the healthiest soft drink choices as they have no added sugars.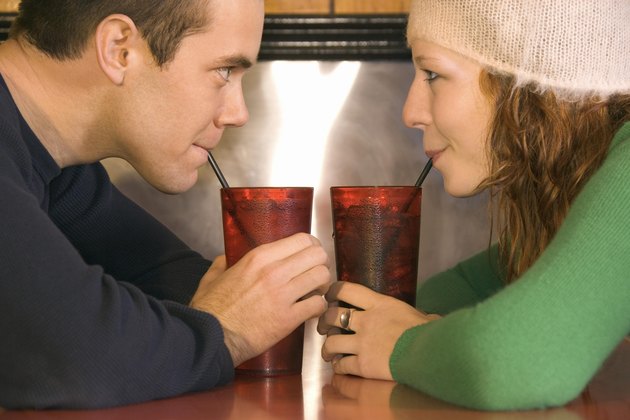 Fructose-Free Soft Drinks
A soft drink sweetened with a sugar substitute such as aspartame contains no fructose. Other varieties of soft drinks may use artificial or natural sugar substitutes like sucralose or stevia. Check the nutrition facts label to confirm the total calories of your soft drink. If your soda is calorie-free, it will not contain fructose or other added sugars.
Read the Ingredients List
Just because a soft drink does not contain fructose does not mean it is a healthy choice. Some soft drinks have other sugars that are also sources of empty calories. Read the ingredients list and check for other types of sugar like corn syrup or sweetener, fruit juice concentrate, raw sugar or sugar. Regular table sugar, also called sucrose, is made of glucose and fructose, so just because a beverage doesn't contain high-fructose corn syrup doesn't mean it's fructose-free.