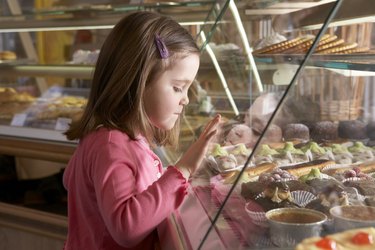 Calcium propionate is an antifungal that your body is thought to process relatively easily. The Center for Science in the Public Interest indicates that calcium propionate is added to bread products to prevent mold growth. Another derivative is sodium propionate, which is often used in baked goods since the calcium may alter the effect of other materials used in making pies or cakes.
Stomach Ulcers
Food products do not directly cause inflammation of the stomach lining, also called gastritis; however, your diet can greatly affect the ability of your stomach to heal the inflammation or make it worse. HealthAssist website keeps an extensive database of the side effects of many popular food additives. Calcium and sodium propionate have the potential to permanently damage your stomach lining by exacerbating gastritis and inducing severe ulcers. You should avoid fast-food products that have a higher ratio of calcium propionate, such as buns, pastries and pizza. Typically, freshly baked bread products avoid the addition of calcium propionate, which is why they tend to spoil more quickly.
Behavioral Changes
A study in the "Journal of Paediatric Child Health" in 2002 reported that although calcium propionate may have little to no side effects on the average person, chronic exposure, especially in children, might induce a myriad of behavioral changes. A controlled group of children fed a strict diet without any food additives was compared to a group that was given traditional bread each day. The clinical trial revealed that "irritability, restlessness, inattention and sleep disturbance in some children may be caused by a preservative in healthy foods consumed daily." These behavioral changes appear to be reversible when the preservative is removed from the child's diet.
Headaches
Calcium propionate, like all forms of propionic acids, is linked to migraine headaches. Fermented foods, which naturally produce calcium propionate, have historically been linked to headaches; however, no clinical trials have shown a statistically significant link to this claim. The website FoodReactions warns that if you experience any adverse side effects to other fermented products, you may also experience the same side effects with calcium propionate.