Whether you were active before your pregnancy or not, exercise while pregnant is healthy for you and the baby, and can help you manage the inevitable weight gain. Walking on a treadmill is one of the aerobic activities that pregnant women can participate in to get or stay fit. Treadmill walking is convenient because the weather will never interfere with your workout, and it provides a level surface you won't have trouble navigating.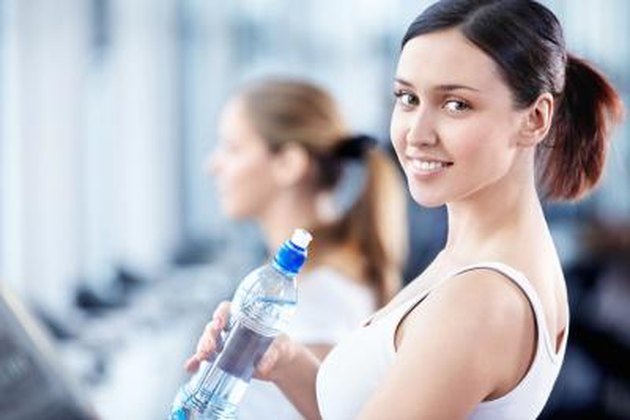 Intensity
"Moderation" is a term often associated with advice on walking while pregnant. "Moderately brisk" is how the Parent's Section of Kids Health recommends you pace yourself, and walking as "moderate exercise" is the advice MedlinePlus gives. Translate that into terms you can put into action: if you weren't athletic before your pregnancy, you'll want to walk at a natural pace, keeping your heart rate down to 140 beats per minute during your walk. In her article for IDEA Health and Fitness Association, "The Pregnant Athlete," Lisa Druxman, M.A., indicates that women who were athletic before conception can handle more intense walks on the treadmill, but that those intensity levels will vary between individuals and should be monitored by their physicians.
Frequency
If you're just starting out, try taking a treadmill walk for 30 minutes three times a week, reserving at least one day to rest in between walking workouts. Just as with any exercise regimen, you should do a five minute warm-up before and a five minute cool-down after working out. If you exercised regularly before you got pregnant, keep up your workout frequency during your pregnancy. As you progress through trimesters, you'll likely find your comfort and energy levels are challenged. In their 2008 book, "The Active Woman's Pregnancy Log", Suzanne Schlosberg and Liz Neporent encourage mothers-to-be to try to get in at least two days of walking on the treadmill each week for as long as they can.
Technique
A peculiarity with walking on a treadmill is that your balance may be thrown off a bit as your center of gravity shifts throughout the course of your pregnancy. The rails on the equipment can come in handy to keep you from losing your balance. Don't lean on them, just use them to help keep your equilibrium. If you feel comfortable without using the handrails, walk as you normally would on any track or path: swing your arms in a natural manner, pumping them a little to give your arms a bit of a workout and help increase your heart rate, too.
Take Precautions
Be extra-careful getting on and off the treadmill while you're pregnant, taking care not to lose your footing on a moving belt. During your workout, don't stumble by accidentally stepping on a non-moving part of the deck. Pay attention to how you feel physically. Slow down and trim some time off your workout if you experience shortness of breath or feel weak. If your balance is off, Mark and Lisa Fenton recommend in their 2004 book, "Walking Through Pregnancy and Beyond" that you switch to high-top sneakers for added stability. And if you get fatigued, dizzy, have heart palpitations or pain in your pelvis or back, stop altogether and contact your obstetrician.