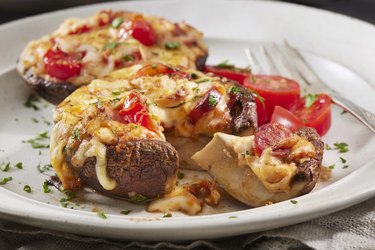 Beefy, juicy and full of flavor, portobellos are a mushroom lover's delight.
For very few calories, you can throw some large portobello mushroom caps on the grill instead of a high-calorie hamburger. You'll save more than 150 calories, but your taste buds won't feel cheated.
Portobello Mushroom Nutrition
A serving size is generally two portobello mushrooms. The nutrition facts below are for one large portobello.
​​‌Calories‌​​: 18
​​‌Total fat​​‌: 0.3 g

​​‌Saturated fat​​‌: 0 g
​​‌Trans fat‌​​: 0 g​​

​​‌Cholesterol‌: 0 mg
‌Sodium‌​​: 7.6 mg
​​‌Total carbs‌​​: 3.4 g

​​‌Dietary fiber‌​​: 1.1 g
​​‌Sugar‌​​: 2.1 g

​​‌Protein‌​​: 1.8 g
There are only 18 calories in portobello mushrooms per 3-ounce serving (that's about one mushroom), according to the USDA. This amount is only 1 percent of a typical 2,000-calorie daily diet for the average adult.
The ratio of calories to weight makes portobellos a low-calorie food. Low-calorie foods have few calories per gram and can help people manage their weight, according to the Centers for Disease Control and Prevention (CDC). Because they are so low in calories, you can enjoy them in larger quantities and feel satisfied.
As an example, 3 ounces of cooked ground beef has 218 calories. You could eat eight large portobello mushrooms — almost 2 pounds — for the same amount of calories as one small hamburger patty.
Portobellos are low in calories, but they're certainly not lacking in nutrition. A large portobello mushroom cap has fewer than 4 grams of carbohydrates. Fiber makes up one-third of the carbs in portobellos.
Portobellos are also low in fat. You'll get less than half a gram of fat from one portobello mushroom. Portobellos don't have any saturated fat, trans fats or cholesterol.
Portobellos may be an ideal food for vegetarians or vegans that need to add a little more protein into their diet. Each portobello mushroom has more than 2 grams of plant-based protein.
One cup of diced portobello mushrooms contains 0.13 milligrams, or 7 percent of your recommended dietary allowance (RDA), for vitamin B6. The same portion supplies 3.87 milligrams of niacin, which is 24 to 27 percent of your RDA.
Your body doesn't store niacin or vitamin B6, so it's essential to get a regular supply through your diet, according to Harvard T.H. Chan School of Public Health. Niacin helps the body metabolize food into energy and also synthesizes fatty acids.
Vitamin B6 is important because it's involved in more than 100 chemical actions throughout your body, per the NIH. It helps metabolize amino acids, produces neurotransmitters and supports your immune system.
Portobello mushrooms are rich sources of copper and selenium. Your body needs copper to form connective tissue, metabolize iron and produce energy and antioxidants, according to the NIH. You'll get 0.2 milligrams, or 27 percent, of your RDA for copper in one cup of diced portobellos.
Selenium has two primary jobs to fill: It helps the body produce thyroid hormones and antioxidants. It also supports your health by regulating your immune system and inflammation, according to an April 2012 review in ‌Antioxidants & Redox Signaling‌. (Note: This is an older review.) The same serving of portobellos has 16 micrograms, or 29 percent, of your RDA for selenium.
How to Store Mushrooms Safely
Store portobello mushrooms in the refrigerator and use them within 3 to 7 days, as recommended by the USDA. Clean them with a damp cloth or paper towel prior to eating. Don't rinse them because they'll absorb too much water.
How to Cook Portobello Mushrooms
Next time you're throwing a backyard barbecue, prep some large portobello mushroom caps to grill by brushing both sides with olive oil and seasoning with salt and pepper. Cook for 4 to 5 minutes on each side.
Mushrooms are porous and easily soak up flavorful marinades. Mix balsamic vinegar, olive oil, lemon juice, mustard, garlic, thyme and salt. Place the marinade and the mushrooms in a large, resealable plastic bag and toss to coat. Allow them to soak in the marinade for 30 minutes at room temperature before grilling.
Saute your portobellos or stuff them with spinach, onions and feta cheese.
Serve them as part of a caprese salad with sliced tomatoes, fresh basil and low-fat mozzarella cheese.
Was this article helpful?
Thank you for your feedback!