In a busy life, having simple, easy to prepare meals can help to alleviate the stress of putting dinner on the table. However, it is important to make sure these meals are healthy, too. Uncle Ben's rice is fast and easy to cook, but be careful when picking one to eat. Some are healthy options, but not all of them are.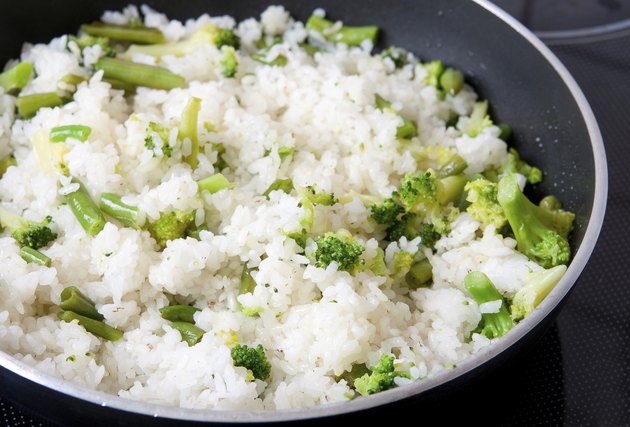 History
Uncle Ben's, a brand owned by Mars Inc., knows rice. It has produced rice dishes for more than 60 years. Originally, Uncle Ben's only produced white, long grain, parboiled rice. However, over the years the company has branched out to produce flavored rice, sauces, and stuffing.
Healthy Defined
The Food and Drug Administration has a legal definition for healthy foods. In order for Uncle Ben's products to be considered healthy, they must be low fat, low saturated fat, low cholesterol, have less than 480 mg of sodium per serving, and, with the exception of brown rice, enriched.
Healthy Products
Many of the products offered by Uncle Ben's meet the FDA definition of healthy. Some examples of healthy products offered by Uncle Ben's include whole grain white rice, whole grain brown rice, jasmine Ready Rice, and rice pudding mix. Many other Uncle Ben's products are healthy. To determine whether a product is healthy, look at the nutrition facts label on the package. The fat, saturated fat, and cholesterol should be less than 5 percent of Daily Value per serving. Then, look at the sodium and confirm that it contains less than 480 mg per serving.
Unhealthy Products
Even though many Uncle Ben's products are healthy, some are unhealthy. Due to the high sodium content of the seasoning mixes, products are more likely to be unhealthy if they are flavored. Some of the unhealthy products offered by Uncle Ben's include the entire Country Inn line, the Long Grain & Wild Rice line, creamy chicken whole grain white rice, and ready Whole Grain Medley brown and wild rice.
Part of a Healthy Diet
Uncle Ben's products should be combined with vegetables and lean protein to make a healthy meal. Using the plate model, Uncle Ben's rice can be part of a healthy diet by making one quarter of the plate rice, one quarter a lean protein such as chicken breast or beans, and the other half of the plate fruits and vegetables such as a steamed broccoli and a fruit salad. The Dietary Guidelines for Americans states that at least half of grains consumed should be from whole grains. With Uncle Ben's brown and wild rices, it is easy to do this.