In Chinese food, a dumpling is a ball of dough filled with meat, fish or sweet fillings. Dumplings can be eaten alone or added to soups and stews as part of a main meal. Steamed dumplings are healthier than fried dumplings.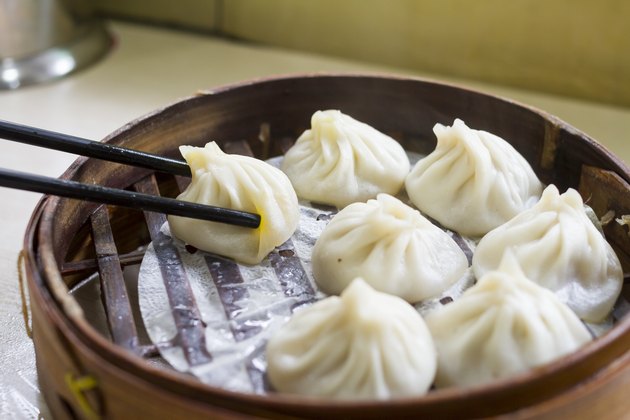 Calories in Steamed Dumplings
A portion of pork-filled, steamed dumplings from P.F. Chang's Restaurant contains 60 calories. Its steamed shrimp or vegetable-filled dumplings contain 45 calories per portion.
Steamed Versus Fried Dumplings
Ordering pan-fried pork-filled dumplings from P.F. Chang's will add 10 calories while the pan-fried shrimp or vegetable dumplings contain 60 calories per portion, thus adding 15 calories.
Nutritional Information
An average steamed dumpling filled with meat, poultry or seafood contains 41 calories and equates to 2 percent of the recommended calorie intake. One dumpling also provides 0.98 g of fat, 3.54 g of carbohydrate, 0.2 g of fiber and 4.27 g of protein.