Developed by former professional endurance triathlete Brendan Brazier, the Thrive diet is a vegan eating plan that supports your goals of achieving an optimal weight, performing well in sports and aging gracefully. Based on principles of clean eating and the consumption of nutritionally dense foods, Brazier makes the Thrive diet available in book form and in a series of free online lesson plans that tailor its guidelines to your personal goals. The diet shuns all animal products and processed foods to create earth-friendly menus that contribute to good health.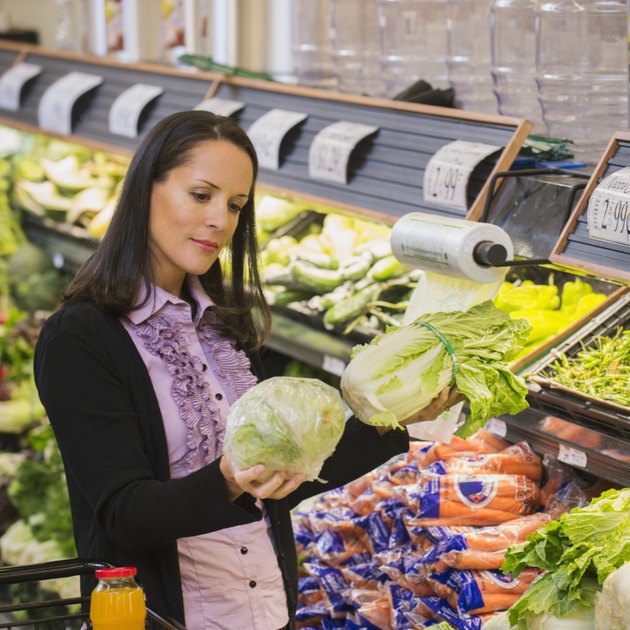 The Crux of the Thrive Diet
Eating vegan means no meat, fish, dairy, eggs or poultry. You get all your nutrients from plant foods such as beans, nuts, seeds, vegetables and fruits. The Thrive diet focuses on the "superfoods" available to vegans that contain ample antioxidants and quality amounts of vitamins A, C, D and the B complex of vitamins. Omega-3 fatty acids, selenium and zinc are other important nutrients that the diet emphasizes. An example of such a "superfood" is the sea vegetable, chlorella, which you find in powder form and mix into smoothies or homemade crackers. Leafy greens, hemp, pumpkin seeds and brown rice are other foods that feature prominently in the diet.
Brazier maintains that his holistic approach helps you gain long-term health and success; you can gain physical and mental healthy by consuming whole, natural foods.
Starting the Thrive Diet
Brazier recommends you crowd out "bad" foods in favor of good ones. When you flood your diet with quality choices, you don't have the appetite or cravings for those of poor nutritional quality. To start, you may just add one Thrive-inspired meal daily -- perhaps a smoothie or a salad consisting of green vegetables and lemon juice and olive oil dressing. A gradual approach allows your body to adapt to the new way of eating.
Over time, more and more of your meals take on the vegan, super-nutritious Thrive qualities. The diet is not about perfectionism, but about making progress in improving your eating habits. Brazier notes, however, that the more closely you follow his plans, the faster you'll improve your overall health. The meal plan will eventually recalibrate your system, so, he says, you will have no problem sticking just to the foods included.
Go Shopping
Go shopping with a list of high-nutrition foods provided by Brazier in the book, so you can start to add Thrive meals, or follow the whole meal plan, right away. The recipes and meal suggestions in the book act as guidelines, however; you can follow them strictly or use them as a way to develop your own meals that incorporate the super foods.
The shopping list provided by Brazier includes avocado, beets, carrots, celery, dinosaur kale, onion, sun-dried tomatoes, sweet potatoes, nori sheets, chickpeas, black beans, flaxseed, hemp, pumpkin seeds, amaranth, quinoa, wild rice, apples, bananas, dates, grapefruit, coconut oil, hemp oil, walnuts, almonds, brown rice, spelt flour, agave nectar, apple cider vinegar and fresh herbs.
Guidelines of the Thrive Diet
Brazier advocates that you eat enough food to support your activity level and promote cellular health. You don't supplement while on the diet; instead, eat foods that are rich in nutrients to obtain all you need. Denatured, refined and processed foods should be avoided; pasteurized protein powders, roasted nuts and packaged snacks, for example, are off the menu. Instead, focus on foods that are efficiently digested while reducing your intake of foods high in sugar and starch.
You'll eat several small meals throughout the day so you never feel too full or too hungry, which also promotes consistent energy levels. A substantial afternoon snack that contains protein, high-quality fats and fiber prevents your being so hungry at dinner that you overeat or make poor nutritional choices. One of Brazier's smoothies, a homemade energy bar or Thrive-recipe vegetable crackers with pineapple salsa, are examples of such snacks.
Daily Specifics on the Thrive Diet
Brazier recommends you consume a nutritious smoothie consisting of blended whole foods daily. His book has examples, such as a pomegranate smoothie containing banana, dates, pomegranate seeds, flaxseed, hemp protein and cayenne; or a ginger pear smoothie made with banana, pear, flaxseed, hemp protein and fresh ginger.
A large, green salad is also included as part of the everyday meal plan. Make the salad using dark green vegetables, including baby spinach, kale and collards. Top the salad with a homemade dressing made from cold-pressed oils, not a bottled dressing.
Include a raw energy bar daily made from nuts, dried fruits -- unsweetened, with no added sugar -- seeds and sometimes added hemp protein. You can make your own from recipes provided by Brazier in his book, or purchase one marketed through his Vega brand of products.
Meal Ideas on the Thrive Diet
The book, "Thrive: The Vegan Nutrition Guide to Optimal Performance in Sports and Life," provides the 12-week menu plan with recipes and suggestions for natural nutrition. You won't find bacon, eggs, packaged cereal, burgers, fries or chips on the Thrive Diet. Even typical "diet" foods, such as grilled chicken breast, yogurt and whole wheat bread, are also off the menu.
A Thrive diet breakfast may consist of yam pancakes with agave nectar and fruit; homemade banana, ginger and pear cereal with almond milk; or a green smoothie made with romaine, dates, honeydew melon, flaxseed, hemp protein and fresh ginger. For lunches, you might make a cucumber pesto salad; a beet pizza with sunflower seed crust; or dinosaur kale wrapped around shredded carrots, shredded seaweed, avocado and quinoa with a side of carrot soup. At dinner, enjoy creamy carrot salad with tahini dressing; a pecan-sunflower burger with mixed greens or zucchini pasta with sun-dried tomato marinara and pepper soup. Snacks include homemade crackers made from lentils or ground vegetables and almonds; energy bars; smoothies; seaweed salads; roast plantain chips; and vegetable soups.
Exercise on the Thrive Plan
Brazier maintains that exercise is critical to the development and maintenance of optimal health. As a competitive athlete, Brazier does more than the 150 minutes recommended weekly by the Centers for Disease Control and Prevention, but doesn't expect everyone to exercise at his intensity.
A minimum of 20 minutes per day is acceptable when starting an exercise routine. He recommends alternating days doing cardiovascular exercise, such as brisk walking or swimming, and resistance training, with one full day off for rest per week. Over time, you can increase intensity and duration, if it suits your interests and disposition.
The online version of the Thrive Diet offers more detailed workouts and exercise recommendations. Brazier provides tips for nutritional support for each workout and emphasizes the importance of pre- and post-exercise nutrition, as well as fuel during exercise, when you participate in long endurance sessions. The lessons and advice are detailed, but emphasize using whole, highly nutritious foods for energy and recovery to optimize your performance.
Challenges on the Thrive Diet
The meal plans are nutritionally complete and satisfying, but some of the foods may be new to you and the new flavors may require some time to adjust to. Also, foods like dulse, amaranth and rooibos may not be readily available in commercial grocery stores, so you may need to find a specialty store or seek them out online. Many of the recipes require a high-quality blender, a coffee grinder -- for grinding nuts and seeds -- and a food processor.
The meals can take time to prepare. Planning and preparation are required if you transport your lunch or eat breakfast on-the-go. Eating out at restaurants or in other people's homes can also pose a challenge.