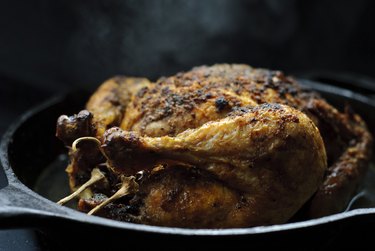 Rainforest Cafe is a family-oriented, themed restaurant with several locations throughout the country. The menu features American fare with a tropical twist to go along with the rainforest theme. You have a choice of pasta, sandwiches and burgers, soup and salads, seafood, beef and chicken. If you plan to eat at the Rainforest Cafe, knowing the nutrition information is a good way to stay within your dietary guidelines.
Soups and Salads
If you're looking to dine on the lighter side, soups and salads are the way to go. While not all soup and salad options are low in calories, you do have a few balanced options. For instance, the jungle chop is a good salad choice. It contains 227 calories, 28 grams of protein, 13 grams of fat and 13 grams of carbohydrates. When it comes to soup, try the tomato basil soup garnished with Parmesan for a total of 265 calories, 9 grams of carbs, 2 grams of fat and 4 grams of protein.
Main Entrees
Of the main dishes, a few come in under 500 calories and less than 20 grams of fat. These are the Caribbean coconut shrimp, the chicken and beef fajitas and the coconut macadamia tilapia.
Most of the pasta dishes are close to 1,000 calories. You can order a half plate instead of a full one, however. The most balanced main entree is the half of a rotisserie chicken. Have it with seasonal vegetables and eat one portion, such as the breast, and save the rest for another meal.
Share the Appetizer
Order an appetizer for your family to share, instead of separate appetizers. This will help balance out the calories. For example, the chile con queso has 740 calories, 29 grams of protein, 24 grams of fat and 18 grams of carbs. For a family of four, you'll come out around 185 calories per person if you divide it equally. The spinach and artichoke dip has a similar nutrition makeup, making it better for sharing also.
Balancing Your Meal
Eating out once in a while, or for special occasions, is unlikely to cause a problem as long as your overall diet is nutrient-dense and balanced. Still, you may want to balance your meal with healthy items like fruits and vegetables when you dine at Rainforest Cafe. Instead of traditional sides such as french fries, have a side of seasonal vegetables. Other healthy side options include apple sauce, bananas and carrot sticks.