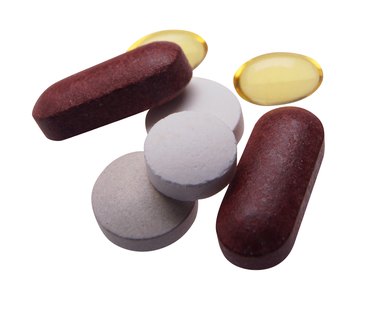 If you want larger breasts and don't want to put out the money for enhancement surgery, bust supplements may sound like a good idea, but their effectiveness is dubious and their use may carry a risk of serious illness. Natural Curves supplements are produced by the company Biotech and sold through retailers like GNC. The product is marketed as a natural way to increase the size of your breasts.
Bigger Cup Size
According to the manufacturer, Natural Curves has the ability to increase your breast size one cup or more in as little as 30 days. You are instructed to take one tablet twice a day for three to six months and stop when you reach the breast size you desire. To maintain the size, you are told to use the product for two weeks every three to four months. The manufacturer claims the product is most effective if you avoid carbonated drinks and caffeine while using the supplement. Keep in mind that none of these claims have been evaluated by the FDA for validity.
Hormone Fluctuations
Ingredients included in Natural Curves are soy, saw palmetto, chasteberry, fenugreek, dandelion root and ginseng. The manufacturer states that this proprietary blend has an effect on the hormones that control breast growth. However, these claims are unfounded. A study published in a 2009 issue of the "Journal of Nutrition" found soy has no effect on the density of breast tissue. Furthermore, the American College of Obstetricians and Gynecologists states that no clinical trials have been conducted to prove the effectiveness of bust-enhancing supplements and warns against taking these supplements, since they may pose health risks.
Increase Breast Cancer Risk
Although breast enhancement products like the Natural Curves supplements may not increase the size of your breasts, they can have other effects on your body. The Mayo Clinic warns that these types of products often contain ingredients known as phytoestrogens, which may increase your risk of certain types of breast cancer.