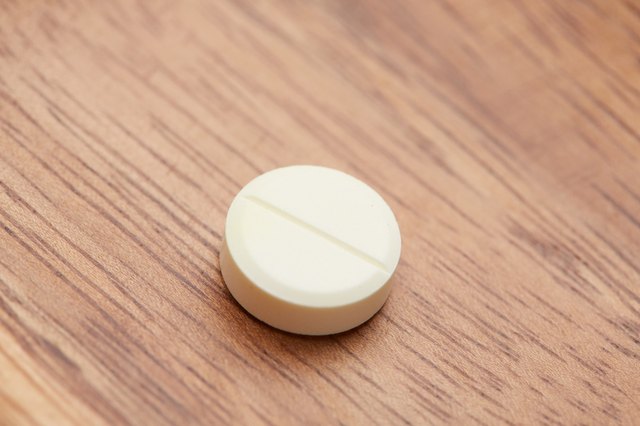 Vitamin B-6 toxicity cannot occur from eating natural foods, but it can occur from supplementing with its synthetic form, pyridoxine. The recommended dietary allowance of vitamin B-6 for adults is no more than 2 mg daily, but toxicity is not thought to occur until ingesting at least 100 mg daily, if not 500 mg daily, for many weeks consecutively. Some people do mega-dose pyridoxine for long enough to cause toxicity, which leads to symptoms ranging from temporarily irritating to permanent and disabling.
Nerve Irritation
Vitamin B-6 is needed for maintaining healthy nerves and muscle cells, and aids in the production of DNA and RNA. Too much synthetic pyridoxine, however, can irritate nerves and create symptoms. The most commonly irritated nerves from pyridoxine toxicity are the smaller peripheral nerves of the hands and feet, which produce numbness in a "stocking-glove" distribution, according to the Merck Manual website. Although numbness is common, the nerve irritation does not usually affect the senses of touch, temperature or pain. Motor coordination and walking ability often remain intact, although muscle spasms or cramps may be experienced. Discontinuing pyridoxine supplementation usually reverses these symptoms within a few weeks.
Headaches
Headaches from pyridoxine toxicity range from dull pain to throbbing and migraine-like. The head pain may be caused by irritation to the nerves surrounding the head, or to the nerves controlling blood flow into the head, or to the neurons within the brain. Initial overdose of pyridoxine can cause short-term hypertension, which can increase blood pressure within the head and also cause headache.
Severe Fatigue
Severe fatigue is a common symptom of pyridoxine toxicity, often because of disrupted sleep cycles, or insomnia. Restless legs, cramps, headache and nerve irritation interferes with restful sleep. Calcium and potassium balance severely disrupts pyridoxine toxicity, which affects muscle function and endurance.
Mood Changes
Mood disturbance is common with pyridoxine toxicity -- no doubt from the debilitating physical symptoms, more so than chemical imbalances in the brain. Depression and irritability often occur, which are common in people who suffer from chronic pain, headache, sleep disturbance and fatigue, as reported in "Professional Guide to Diseases." Stress and anxiety from progressive physical disabilities are also common and expected.
Nerve Damage
Permanent nerve damage from severe pyridoxine toxicity is more serious than nerve irritation. In addition to numbness in the arms and legs, nerve damage affects coordination, balance, muscle strength, temperature and vibration senses and causes burning or shooting pain. Due to lack of balance, leg pains and weakness, walking may become unstable and labored. Patients with nerve damage from pyridoxine toxicity may take several months to recover once they discontinue supplementation, although some never fully recover.