Once you see the spiny body of a sea urchin, the last thing you might want to do is get close enough to touch it, let alone eat it. Sea urchins, however, are edible. In fact, the uni, or soft tissues of the sea creature, are a delicacy, according to the Pacific Urchin Harvesters Association. The meat of the sea urchin is also quite nutritious.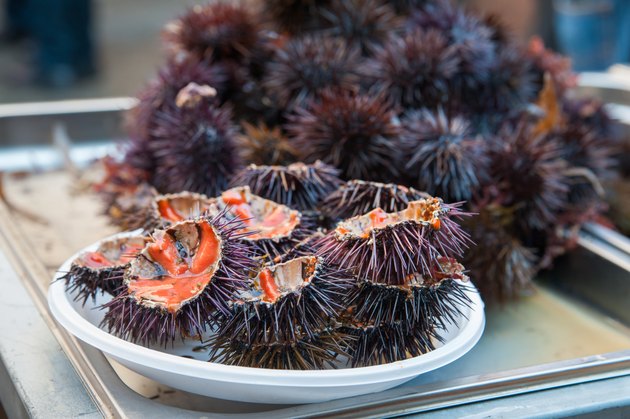 Sea Urchin Basics
A 100-gram portion of sea urchins, which is equal to about 3.5 ounces, contains 119 calories and very little fat. The fat that a serving of sea urchins does contain is almost all unsaturated fat. For example, there are 1.75 grams of polyunsaturated fat in a serving of sea urchins. Eating polyunsaturated fats in place of saturated fats, such as those found in a burger, can help lower your overall cholesterol level. Sea urchins also contain omega-3 fatty acids, which can help lower blood pressure and reduce the risk of an abnormal heart beat, the American Heart Association notes.
Powerful Protein
You'll get about 13.3 grams of protein in a 100-gram serving of sea urchins. That translates to 29 percent of the 46 grams of protein that women need each day and 24 percent of the 56 grams that men require daily, according to the Institute of Medicine's recommended dietary allowance. Protein is necessary for energy production and enables your entire body to work properly.
Zinc
Zinc is an essential mineral that plays an important role in wound healing. The mineral supports a healthy immune system and promotes normal reproduction. Zinc supports healthy eyesight, smell and taste, too. A serving of sea urchin supplies a good dose of zinc and is a low-fat, low-calorie way to boost your intake of the mineral.
Incorporating Sea Urchins Into Your Diet
Many people eat the meat of sea urchin raw or paired with another type of sushi. Eating raw seafood comes with the risk of contamination with bacteria that can make you sick, so always ask your doctor before adding raw sea urchin to your diet. You can also cook sea urchins and then eat them plain, or include them in other dishes such as pasta with white wine sauce or seafood stew. If you are going to include other ingredients when preparing your sea urchins, factor those ingredients into the nutrition that this delicacy provides. Ask your local butcher or fish dealer about purchasing sea urchins as they aren't readily available in many supermarkets.