USDA's ChooseMyPlate.gov recommends eating between 5 and 8 ounces of grains per day, depending on your age and gender, with at least half of those being whole-grain options. One-half cup of cooked pasta equals one serving or 1 ounce of grains. The number of calories in your bowl of pasta depends on what type of pasta you choose, the number of servings per bowl and what type of sauce you choose.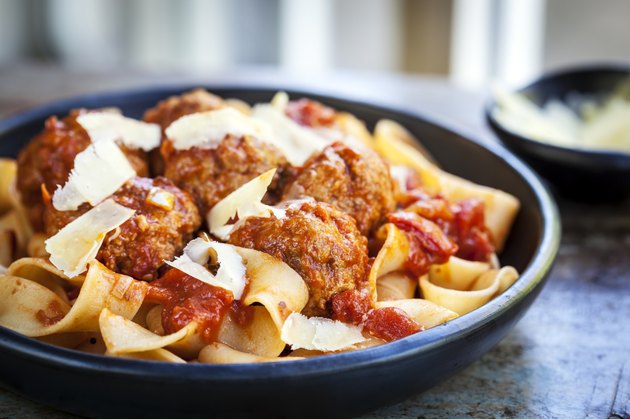 Calories in Pasta
For every 1/2 cup of cooked, enriched spaghetti you add to your bowl, you'll get about 111 calories, but just 1.3 grams of fiber. If you change that pasta to whole wheat, each 1/2 cup provides 87 calories, and the amount of fiber doubles to 3.2 grams. To ensure you don't take in too many calories, measure out each serving of pasta as you add it to your bowl and record the nutrition value on MyPlate.
Calories in Sauces
The type of sauce you top your pasta with makes a big difference in terms of calories. A 1/2-cup serving of tomato-based marinara provides 65 calories and 2 grams of fiber. A more decadent yet less healthful sauce option is Alfredo, a cream-based topping -- 1/2 cup of Alfredo is 220 calories with no fiber and 20 grams of fat.