Protein from various sources has become a key ingredient in both meal-replacement products promising fat loss and dietary supplements designed to aid in muscle gains. The prevalence of these products has uncovered many side effects. Embarrassingly enough, one result for some who attempt to incorporate more protein into their diet is gastrointestinal discomfort and/or increased flatulence. Because protein bars, in particular, can contain the macro-nutrient in large quantities, they are often blamed for this unfortunate situation.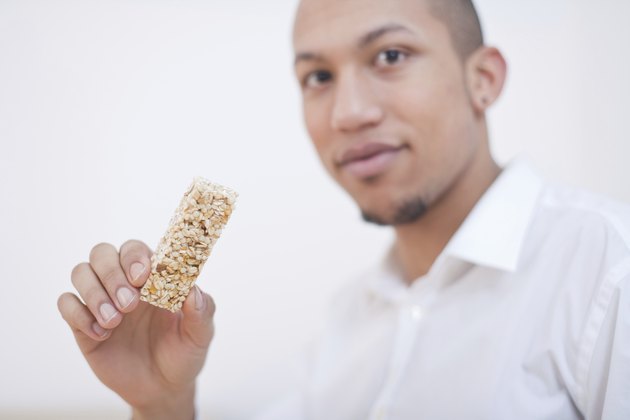 Where Gas Comes From
The interaction of bacteria with undigested carbohydrates is the cause of what we most often define as "gas," the Mayo Clinic explains. Therefore, the gas that is produced following the consumption of a protein supplement, such as a protein bar, is often due to the presence of elements other than the protein itself. However, the specific causes of this condition vary depending upon the type of protein used within the product.
Whey Protein
Whey is a common protein used as a main ingredient in protein bars. However, due to the fact that whey is derived from milk, it contains the dairy sugar lactose. The Physicians Committee for Responsible Medicine estimates that up to 75 percent of the population lacks the enzyme necessary for the proper digestion of lactose. This intolerance can cause gas, among other symptoms, during the digestion of dairy foods, including whey protein. Over-the-counter products containing the enzyme needed to breakdown lactose may assist in alleviating symptoms of this condition.
Soy Protein
Protein derived from soy bean is another common ingredient in protein bars. Because it has a bean as its source, a frequent side effect from consuming soy protein is gas. This situation occurs due to the presence of indigestible bean sugar, or oligosaccharides, in the bowel, which bacteria therein feed upon. Products containing the enzyme alpha-galactosidase may be able to provide a remedy to the gas produced under these circumstances, Dr. Ladd McNamara explains on his website.
Other Considerations
Multiple conditions, in addition to those already mentioned, may contribute to the production of gas and gas pains. These include the use of antibiotics, the use of laxatives and the consumption of artificial additives, sugar-free sweeteners in particular. Keep in mind that the chronic presence of excess gas may be an indication of a significant illness. Therefore, before attempting to treat it on your own, consult your doctor.
Warning
Decisions involving your diet should not be taken lightly. Because the foods you eat and the supplements you use play a crucial role in your health, discuss dietary matters with a registered dietitian and/or your physician. Implement any proposed changes to your diet under the guidance of a health-care professional.