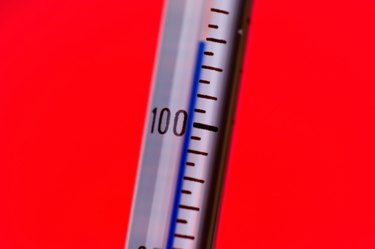 "Starve a fever, feed a cold" is a saying that may not be true. The increased calories used when you have a fever seem to require that you maintain adequate energy to fight your illness.
Burning Calories
Maintaining life burns calories. You burn calories pumping blood to your organs, digesting your food and breathing. Any activity beyond your basic bodily functions increases the energy that you use. The amount of calories burned depends on how hard your body has to work.
Fever Raises BMR
An increased body temperature increases your body's chemical reaction. This increase raises your BMR, or basal metabolic rate. ShapeFit reports: "For every increase of 0.5 C in internal temperature of the body, the BMR increases by about 7 percent."
Focus on Healing
Restricting your calories while you are sick slows your ability to heal, according to Elizabeth Gardner, associate professor at Michigan State University. She recommends that while caloric restriction may provide general benefits to your health, this is not true during flu season.