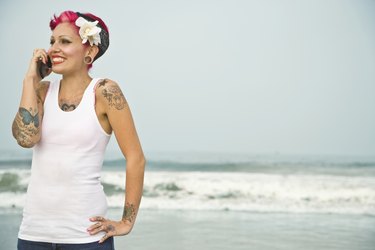 Changes in your body, including weight gain, pregnancy, weight loss or aging can impact the appearance of your tattoo. The impact of weight changes is greater on some body parts than others, and you may want to speak to your tattoo artist if you're planning on significant weight loss after your tattoo.
Location
The placement of your tattoo will significantly impact how much it changes as your body changes. Tattoos on the hands, wrists, feet, ankles and back of the neck will be minimally affected by weight loss. Men are apt to find that ink on their arms or stomach is significantly changed by weight variations, while women will notice more differences if their tattoo is on the hips, thighs, breasts or belly.
Time Frame
Slow weight loss will reduce the change to your tattoo. Rapidly losing or gaining weight is more likely to distort your tattoo design than slow gain or loss and may be more likely to cause stretch marks or sagging skin. If you want to protect your tattoo while dieting, opt for a healthy and gentle weight reduction, rather than drastic fad dieting or weight-loss surgery.
Size
Larger tattoos may show less distortion over time and through body changes than small ones, according to Tattoo.com. A sleeve or other large tattoo on your arm, thigh or chest may shift less visibly. If your tattoos do shift in an unpleasing way, you may be able to add to them or touch them up, rather than having them removed or covered up.
Types
Highly symmetrical tattoo designs, like tribal or Celtic patterns, are more likely to show the effects of weight loss than less symmetrical designs. If you are planning a tattoo on a fleshy area and expect to lose a significant amount of weight, work with your artist to design a tattoo that can accommodate these changes to your body without distorting it into an uneven or asymmetrical shape.
Solutions
If your tattoo has distorted significantly due to weight loss, you may find that a skilled tattoo artist can repair or cover up the design, or you may want to consider laser tattoo removal to eliminate an unattractive tattoo. Consider your new tattoo a memorable way to commemorate and celebrate your dieting success if you do opt to have your artist improve a distorted or stretched design.