With its nutritious bean sprouts, thin noodles and lean tofu, pad Thai may seem like a healthy choice; however, the calories can add up quickly in large restaurant portions. If you finish your whole plate, you'll have consumed about 940 calories, which is typically too many for a single meal. To spare yourself calorie overload, split your pad Thai with a friend or take some of it to go.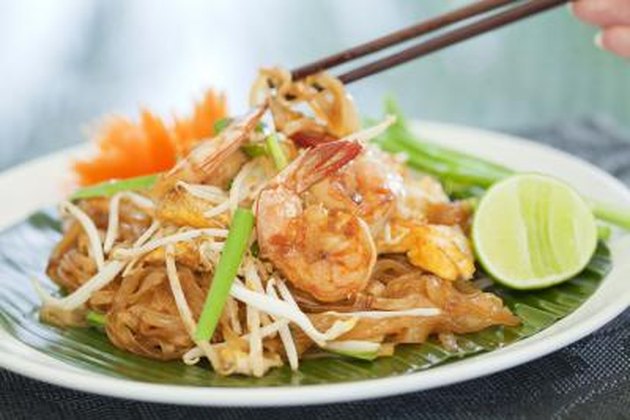 Pad Thai in Your Diet
To find out how pad Thai fits in your calorie budget, estimate how many calories you need in a day. According to Harvard Medical School Health Publications, a moderately active adult -- meaning someone who spends about 30 minutes a day walking briskly, mowing the lawn or performing similar activities -- burns about 15 calories per pound, per day. Using this formula, a 145-pound person burns about 2,175 calories each day. A full restaurant order of pad Thai would make up 40 percent of those calories, while a more reasonable half-order would make up just over 20 percent.