Many women who exercise do so with the goal of having a slimmer or flatter backside. Lifting, slimming and firming the glute muscles has also become the focus of many men. If your goal is to have a flatter, firmer butt, there are a variety of exercises that can help you get there.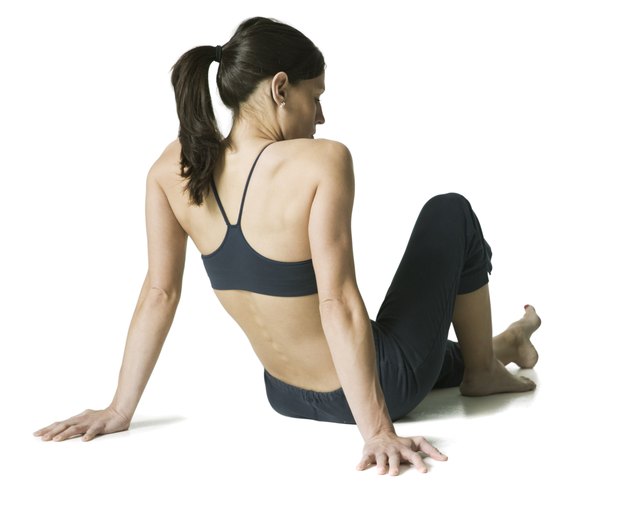 Hip-Lift Progression
Not only does the hip-lift progression tone your butt, it can also relieve any tension you may have in your lower back. Place an exercise mat on the floor and lie on your back. Place the soles of your feet flat on the floor, bend your knees and rest your arms at your sides. Raise your hips straight up, hold the position for one second while squeezing your hamstrings and glutes and then lower your hips back to the mat. Perform the exercise for 60 seconds. If you find this exercise to be too easy, try extending one of your legs as you reach the top of the lift.
Dumbbell Step-Up
The dumbbell step-up works your butt, thighs and hips and requires the use of a raised exercise platform or step. Hold a dumbbell in each of your hands and stand with your feet hip width apart. Make sure your palms are facing in and pull your shoulders down and back. Place your right foot firmly on the platform and push off with your left leg to lift your body completely onto the platform. Place your left foot next to the right foot and stand upright. Slowly place your body weight onto your right foot and step backward with your left foot, placing it on the floor in its original position while allowing your body to slightly lean forward. Transfer your weight to the foot on the floor and step off with your right foot. Repeat the exercise on the opposite side. Perform a total of 10 repetitions per side.
Single Sky Bridge
The single sky bridge works your butt, hamstrings and lower back and requires a sturdy chair. Lie on your back, extend your legs and rest your heels on the seat of the chair. Place your arms at your sides and place your palms down on the ground. Flex your foot and raise your right leg over your hip. Slowly raise your hips off the floor, forming a line from your left shoulder to your left heel. Slowly lower your body back to the ground. Perform 20 repetitions without lowering your leg, lower your body to the floor, switch legs and repeat.