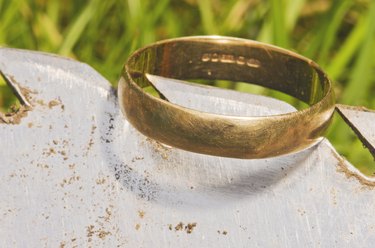 Magnetic devices abound among the no-diet-no-exercise weight loss aids. Touted for its supposed effects on metabolism and circulation, magnetic rings, bracelets or earrings are sold for the purposes of aiding weight loss. There is, however, no evidence whatsoever as to effectiveness of magnets in weight loss.
Proposed Mechanism of Action
The north pole of a magnet is supposed to stimulate metabolism, increasing the calories burned in cells and thus increasing the general energy expenditure. In the rings -- marketed for wearing on fingers or toes depending on the design -- the magnets are used in combination with principles of acupressure. Acupressure is an alternative therapy technique, based on the idea that stimulating certain points on the body will lead to changes in internal organs and physiological processes. The general principles are the same as used in acupuncture.
Lack of Evidence
There is no evidence whatsoever that magnetic rings work for weight loss or weight maintenance. A search of PubMed, a database of more than 23 million citations for biomedical literature, revealed no clinical trials involving magnetic rings, or for that matter bracelets, purported to treat obesity or aid weight loss. There are some trials that show that acupuncture or acupressure treatments have some effect on weight loss, but the systematic review of such studies performed in 2009 showed that the quality of the trials that support the efficacy of these methods is generally poor.
Possible Mechanism of Action
And yet there are people who swear by the bracelets and rings and the way magnets helped them lose weight. The best explanation for these results is a simple placebo effect. Being aware of receiving a treatment and believing in its effectiveness can be a powerful force in healing, especially when psychological and motivational factors are as important as they are with any behavior change such as weight loss.