Making healthy eating choices will give you energy, promote feelings of well-being and ensure you get plenty of the nutrients essential for good health. Planning out what and when you're going to eat meals and snacks will help ensure you're eating an appropriate amount of food and getting the vitamins and minerals your body needs to function normally.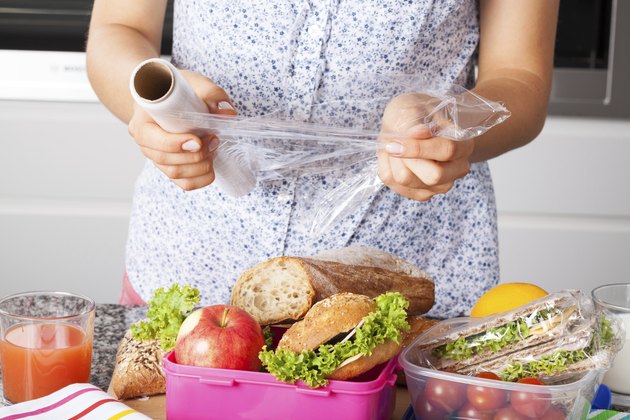 Always Eat Breakfast
Starting your day with a healthy breakfast will give you the energy you need and will enable your body to perform well. Schedule your morning meal shortly after you get up in the morning. Getting up just 15 minutes earlier than normal will leave you plenty of time to eat a nutritious breakfast. Plan quick and easy foods, and you'll be more likely to stick to your schedule. Fresh fruit and whole grains, such as granola or muffins, are quick to prepare and supply several key nutrients. A bowl of oatmeal with unsweetened dried fruit, a bowl of whole-grain cereal with skim milk and banana slices, or a whole-wheat bagel sandwich with low-fat cheese, turkey sausage and tomato slices are additional ideas.
Have an Energy-Packed Lunch
Not only does a healthy lunch that contains fiber and protein help you meet your vitamin and mineral requirements for the day, it also gives you the energy you need for the afternoon and evening until dinnertime. A tuna salad sandwich on whole-grain bread; a salad with meat, such as salmon; or a hard-boiled egg with fruits and vegetables are all nutritious options. You might opt to have two or three smaller meals midday instead, which can help supply a steady amount of energy and help maintain your metabolism. For example, you could have a hard-boiled egg and an apple midmorning, a slice of peanut butter toast two hours later and a handful of nuts and a piece of fruit midafternoon.
Finish the Day With a Healthy Dinner
Eating a meal a couple hours before bed will ensure that you're able to make it through the night without waking up starving. Don't wait too late to eat dinner, however, because this can interfere with your ability to fall asleep and sleep well. Make your dinner with fiber, protein, vitamins and minerals to help you get the amounts of each nutrient you need daily A lean chicken breast with brown rice, steamed broccoli and a glass of milk is an example of a nutritious evening meal. A fruit salad will add vitamin C and potassium. Whole-wheat pasta tossed with roasted zucchini and onions and low-sodium tomato sauce or a bowl of vegetable beef soup with a whole-wheat roll are nutritious meals, too.
Make Wise Snack Choices
Well-timed snacks will help maintain your energy level and give you the stamina to make it to your next meal. Fresh fruits and vegetables, low-fat yogurt, whole-grain dry cereal, string cheese, air-popped popcorn, nuts and seeds are all nutritious snack choices. Keep your snack portions in check so you don't end up consuming more calories than you need to sustain your energy. Aim to keep your snacks at about 100 calories each, suggests the MedlinePlus website.
A Sample Day
Eat breakfast within an hour of waking up. For example, schedule your breakfast at about 7 a.m., followed by a snack two or three hours later. Stick to a lunchtime that's about halfway through your work or school day, which in this example would be between noon and 1 p.m. Have another snack two or three hours later, followed by a healthy dinner between 6 p.m. and 7 p.m. If you're hungry before bed, opt for a light snack, such as an apple or glass of milk, so you're still able to fall asleep.