Training frequency is a really important part of developing your body. Train too little, and you won't see any results. Train too much, and you risk injury, illness and mental burn-out. Each body part should be trained two to three times per week on non-consecutive days. Aim for one or two full-body workouts per week.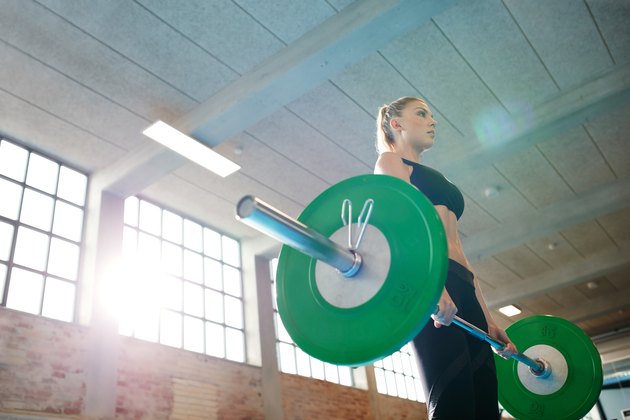 Upper Body Basics
Training your upper body requires hitting your arms, shoulders, chest, back and abs. It's a good idea to include some variation in the two weekly workouts, so as to target every muscle group. For example, in your first upper body workout for the week, you might include the bench press, bent over row, overhead press, single arm row and dumbbell flyes. In your second workout, you might include pullups, bicep curls, tricep dips, forward raises and cable pushdowns. This way, you use a good mix of compound, or multi-muscle, and isolation, or single-muscle, exercises.
Lower Body Basics
Training your lower body means targeting your calves, quadriceps, hamstrings, glutes and your lower back. Again, vary your two weekly workouts. For workout No. 1, you might do squats, deadlifts, lunges, calf raises and leg press. For your second workout, you could do single leg squats, single leg deadlifts, leg extension and hyperextensions. Each of these workouts includes both compound and isolation movements to target your entire lower body.
Full Body Know-how
If you're new to training, the two weekly upper-body workouts and lower-body workouts will be enough for you. Stick with that load until you've got some experience with training and have adjusted your nutrition and lifestyle to meet the demands you're now putting on your body. If you're very experienced with training, however, you might like to include one full body workout per week as well, just to round out your training. For example, you might do a barbell complex comprised of squats, deadlifts, overhead press and bent over rows.
Cardio Considerations
Including some cardio training will also benefit the rest of your sessions. There are a couple of different types of cardio, and how often you should do them varies according to their intensity. For example, high intensity interval training -- in which you alternate moderate intensity exercise and bursts of high intensity exercise -- is extremely challenging to the central nervous system and the musculoskeletal system. It is best done once or twice a week, say, after your upper body workouts. If you are doing medium intensity steady state exercise, you could do two or three sessions if you so choose. Of course, how much cardio you do depends on how much time you have, and is not required to build your body though it will go far in burning fat and improving cardiovascular fitness and endurance.