Surbex-Z is an over-the-counter supplement containing a variety of vitamins which include B-complex vitamins, vitamin C and zinc. It is indicated to correct deficiencies in any of the vitamins which can lead to many health complications when deficient. Vitamin supplements may be beneficial in meeting the recommended daily vitamin intake levels in some individuals, but it is important to speak with a doctor before taking vitamin supplements.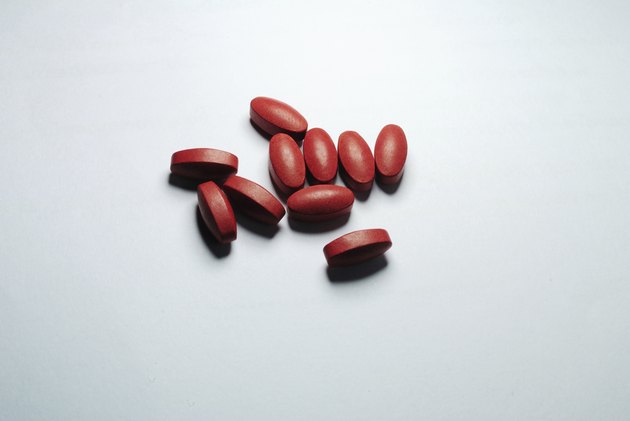 B-Vitamin Deficiencies
Surbex-Z vitamins contain all the B-complex vitamins required by the body which include vitamins B-1, 2, 6 and 12 as well as folic acid, nicotinamide and pantothenic acid or vitamins B-9, 3 and 5, respectively. Surbex-Z may be useful in correcting deficiencies in one or all of the B-complex vitamins. B vitamins are essential for proper growth and development and are required for a variety of bodily functions. Deficiencies can cause decreased energy, anemia or low red blood cell count, loss of appetite and a weakened immune system, according to the National Cancer Institute.
Zinc Deficiencies
Surbex-Z can help correct zinc deficiencies as each serving contains 22.5 mg of zinc. According to Harvard Health Publications, adult males should get 11 mg of zinc per day and women 8 mg. Zinc is an important mineral needed in the production of many enzymes, protein and new cells. It also supports the immune system and is needed for wound healing. Deficiencies in zinc can cause growth problems, loss of appetite and a weakened immune system and in more severe cases hair loss, gastrointestinal disturbances and sexual side effects.
Vitamin C Deficiencies
Surbex tablets contain 500 mg of vitamin C or ascorbic acid. The recommended intake of vitamin C is 90 mg in adult males and 75 mg for females, according to Harvard Health Publications. Vitamin C is important for tissue growth and repair as it is required for the formation of collagen, a principle structural protein of skin, bone, tendons and connective tissue. It is also a potent antioxidant that helps prevent damage to the body by by-products of chemical reactions known as free-radicals. Deficiencies in vitamin C can cause bleeding gums, brittle hair, slow wound healing, anemia, painful and swollen joints and increased risk of infection.