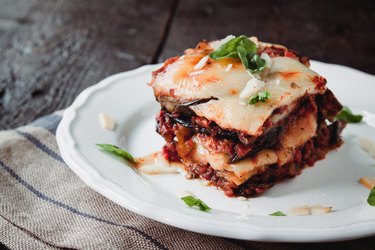 Eggplant parmigiana, or eggplant parmesan, is an Italian food made from layers of deep-fried slices of eggplant, tomato sauce and mozzarella cheese.
Although it's considered a vegetarian dish, eggplant parmesan is traditionally made with full-fat mozzarella and parmesan cheese, making it high in calories and fat.
​​Calories​​: 313
​​Total fat​​: 22.1 g


​​Saturated fat​​: 8.3 g
​​Trans fat​​: 0 g

​​Cholesterol​​: 55.4 mg
​​Sodium​​: 704.9 mg
​​Total carbs​​: 17.2 g

​​Dietary fiber​​: 3.8 g
​​Sugar​​: 5.7 g

​​Protein​​: 13 g
One 8-ounce serving of eggplant parmesan has about 313 calories, according to the USDA. More than 60 percent of the total calories come from fat.
Only between 20 and 35 percent of your daily total calories should come from fat, according to the USDA's dietary guidelines.
One serving of homemade eggplant parmesan has about 17 grams of carbohydrates, which translates to 88 calories coming from carbohydrates.
A serving supplies 6 percent of the daily value for carbohydrates, as well as 3.8 grams of dietary fiber, assuming you eat a 2,000-calorie diet.
A serving of eggplant parmesan has about 22 grams of fat. One gram of fat contains 9 calories, so one serving of eggplant parmesan gets 198 calories from fat and supplies 28 percent of the total fat you need per day.
Keep in mind that 8 grams of fat from eggplant parmesan is saturated fat, which is 41 percent of the daily value for saturated fat.
While eggplant lends a meaty quality to eggplant parmesan, it provides less protein than meat. Each serving of eggplant parmesan has 13 grams of protein, or 26 percent of your recommended daily amount.
This amount contributes to but does not meet your daily protein needs of 46 to 56 grams.
Including eggplant parmesan in your diet gives you a big boost of calcium. Each serving has 315 milligrams of calcium, which is 24 percent of the amount you require each day.
You will also get up to 15 percent (or 1.6 milligrams) of the recommended daily amount of zinc, 18 percent (or 1.4 micrograms) of vitamin B12 and 14 percent (or 17 micrograms) of vitamin K in each portion of eggplant parmesan.
| | |
| --- | --- |
| Calcium | 315 mg, 24% DV |
| Zinc | 1.6 mg, 15% DV |
| Vitamin B12 | 1.4 mcg, 18% DV |
| Vitamin K | 17 mcg, 14% DV |
Is Eggplant Parmesan Healthy?
Eggplant parmesan can be high in sodium, with up to 705 milligrams per portion, or 31 percent of the recommended limit of 1,500 milligrams per day.
The average American gets more than twice this amount, according to the Centers for Disease Control and Prevention (CDC). The CDC also reports that lowering sodium to 2,300 milligrams per day could save $18 billion in health care costs and lower the number of cases of high blood pressure by 11 million each year.
All this being said, eating eggplant parmesan may help you get more important nutrients like fiber, calcium, vitamin B12 and vitamin K into your diet.
Warning
Eggplant parmesan is high in sodium, and a high-sodium diet has been linked to high blood pressure, per the CDC.