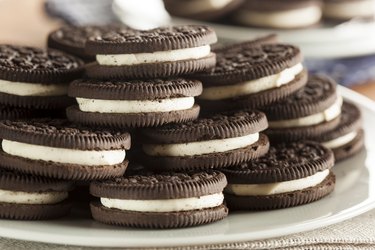 Some 490 billion Oreo cookies have been sold since Nabisco introduced the sandwich cookie to the world in 1912.(See Reference 4) That adds up to nearly 2 trillion sugar and fat-laden calories consumed by fans who love to dunk, twist or simply much the popular cream-filled cookies. If you want to cut down on your personal consumption of fat and sugar, you could remove the filling and enjoy the cookie wafers on their own.
Calories Saved
For each Oreo you consume minus the filling, you will save 20 calories. If you normally eat Double Stuf Oreos, you could save 50 calories. A regular Oreo cookie contains 41.6 calories, and a Double Stuf cookie contains 70 calories. If you're real careful about scraping out all of the filling – a combination of gelatin, shortening, powdered sugar and vanilla – the two cookie wafers remaining will weigh in at about 20 calories.
Sugar Reduction
You also save yourself a lot of sugar calories by eating Oreos without the cream filling. A batch of Oreo cookies – 32 sandwich cookies – contains 5 cups of sugar. Three of those cups of sugar are in the filling, according to a copycat recipe provided by the Food Network. That adds up to more than 2.5 oz. – 5 tbsp. – of sugar per cookie. If you ate the two cookie wafers without the cream filling, you'd reduce your sugar to 1 oz. of sugar.
Saturated Fat
A serving of Oreo cookies contains 2 g of saturated fats. You would eliminate most of this fat by eating the cookies without the cream filling. Saturated fat, long believed to put people at higher risk of heart attacks, may not be as unhealthy as long believed, according to an article in the March 2010 issue of the "Journal of Clinical Nutrition." Researchers from Children's Hospital Oakland Research Institute and the Harvard School of Public Health analyzed the results of 21 previous studies lasting between five and 23 years, and found that people who ate a lot of saturated fat had higher cholesterol levels but did not develop heart disease or suffer from a stroke any more often than people whose diets were a lot in saturated fat.
Trans-Fat
Before the Food and Drug Administration rule effective Jan. 1 2006, Oreos with and without the cream filling contained mostly trans-fats, although cookies with filling contained substantially more. Nabisco introduced Oreos without trans-fats after that date, and taste-tasters at "The Washington Post" found no substantial difference between the texture and sweetness of the two types of cookies. Trans-fats, such as those found in margarine and partially hydrogenated vegetable shortening, are blamed for raising bad cholesterol and lowering good cholesterol.
Make Your Own
If you're tired of scraping out the filling of Oreo cookies, you could make your Oreo-esque wafers from a recipe available at Cookie-Recipe-Club. You would just omit the filling. The recipe for the wafers includes one box of devil's food cake mix, 2 eggs, 2 tbsp. water, 2 tbsp. oil and ½ c. cocoa powder. Combine the ingredients, then shape the dough into balls and place on a greased cookie sheet. You flatten the balls with the bottom of a glass – you may want to coat with cocoa powder to avoid sticking – and cook in a 400-degree oven for eight to 10 minutes. You remove the cookies to a paper towel and flatten again with the bottom of a glass. Online reviewers say the cookies don't look much like Oreos but taste quite similarly.