Exercising your core muscles seated in a chair is not what most people would think of when considering a midsection workout. However, if you are tied to a desk at work all day, have limited space or are unable to move around well, you can get an effective core workout from a chair. Performing simple moves from a seated position can help tone and strengthen your core muscles just as well as exercises done on the floor.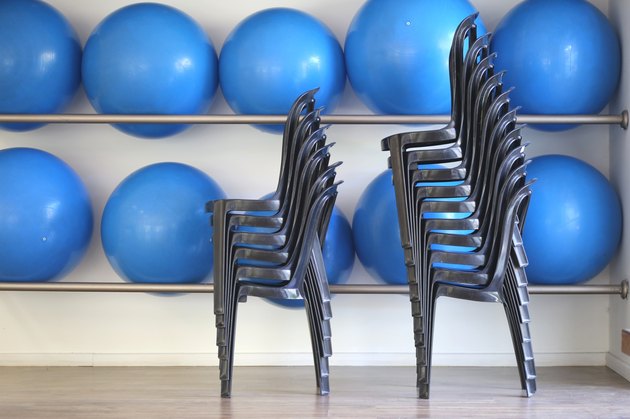 Seated Barbell Twists
A seated barbell twist works your entire core and is an effective chair exercise, provided you move slowly and use a light barbell. Sit with your feet wider than your shoulders, your back straight and holding a light barbell across your shoulders. Twist your torso over to your right, pause for a moment, and then twist over to your left. Keep your back straight and abdominals tight throughout the movement.
Crunching Knee Raises
You can keep your hands at your sides or place them behind your head to do crunching knee raises. Sit tall in your chair and lift one bent leg at a time toward your chest. At the same time, curl your upper body down to meet your knee. Hold each contraction for a moment then release and repeat with the other leg.
Oblique Chair Crunch
The oblique chair crunch is similar to the straight knee raises with a little twist at the end. With your back straight and abs tight, place your hands behind your head or at the side of your head if necessary. Slowly lift your left knee up toward your right side, as you twist your torso to bring your right elbow down. Touch your knee and elbow together if possible, and then return to the start and repeat with the other side.
The Vacuum
The vacuum is an isometric abdominal contraction that you can perform standing, lying or seated in a chair. To perform the exercise, sit up straight in your chair and exhale every last bit of air from your lungs. With your chest up and out, suck your stomach in like a vacuum and hold it for as long as possible. Visualize touching your navel to your spine, so you have the right idea of how to do the exercise.