Stretching elongates your muscles, increasing your flexibility. Increased flexibility gives you a wider range of motion between your joints. Gaining this added flexibility takes time. Even stretching every day, however, will not give you this benefit unless you perform stretches correctly and hold them for the correct amount of time. Holding them for too short a period defeats the purpose and holding them too long increases your chances of injury.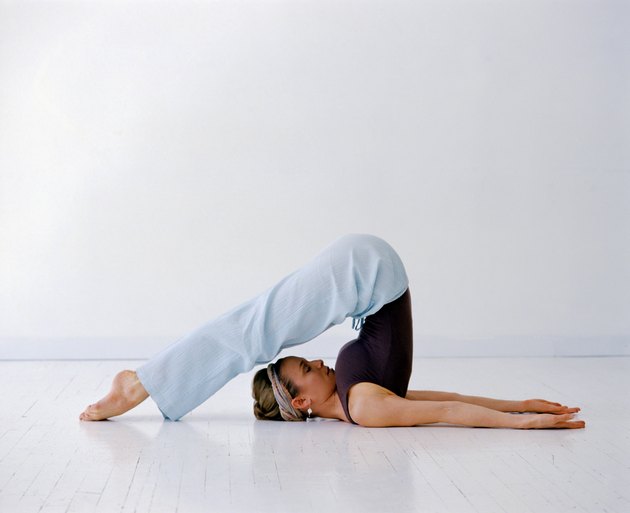 Stretching Types
Stretching falls into seven main categories. These include static, activity, dynamic, passive, isometric, ballistic and proprioceptive neuromuscular facilitation. The most familiar type is static stretching, which requires holding your body still for a set period to elongate the muscle. Active stretching uses a move and hold combination using only the stretched muscle to hold your body position. Dynamic stretching uses a constant series of movements to lengthen the muscle. Passive stretching requires an outside force to move your body and stretch your muscles. Isometric stretching belongs to the static group, but instead of just holding a position, you contract the stretched muscle to increase the stretched effectiveness. PNF combines isometric and passive stretching. When doing ballistic stretching, avoid the bouncing motion, which increases the chances of injury.
Hold the Stretch
Static, active, passive and isometric stretching all involve non-movement during the stretch. Maintain each stretch for about 30 seconds. Holding the position for a longer period increases your chances of tearing the muscle. Holding a stretch for as much as 10 seconds less will make your time efforts less effective. To keep your increased flexibility you should perform each stretch three times at least two times per week.
Before Stretching
Never stretch a cold muscle. Prior to stretching, do about five to 10 minutes of light warm-up activity. Many fitness experts now recommend stretching after a workout instead of before it. If you run short on time and need to stretch without working out, running in place, performing jumping jacks or jogging for 10 minutes will warm your muscles, readying them for stretching.
Target Muscle Groups
If your planned workout is to be short, after warming up focus the stretches. Stretching the shoulders offers no significant benefit for a workout focused on the legs. Targeting the muscles doing the work will get them limber for your workout. Break down your exercise routine to determine which muscle groups will be put to work. For example, running on a treadmill requires using your calf, quadricep and hamstring muscles.