Coenzyme Q10, or CoQ-10, is a vitamin-like substance found in the internal organs of the human body, in small amounts in certain foods, and in nutritional supplements. People take CoQ-10 for a number of health conditions including heart disease and diabetes. Elevated liver enzymes is one of the side effects associated with taking CoQ-10.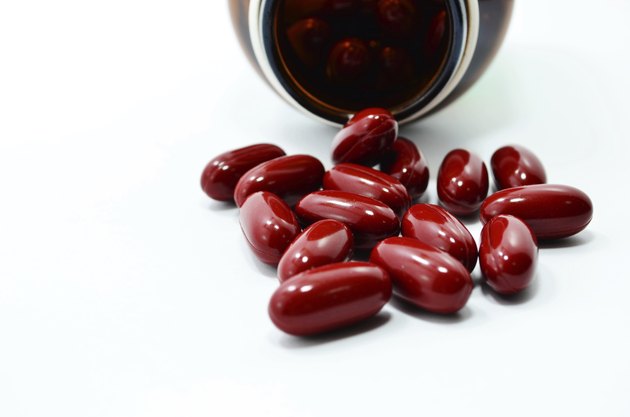 Side Effects
According to MayoClinic.com, elevated liver enzymes have been reported with CoQ-10, but only rarely. Other side effects of CoQ-10 include upset stomach, nausea, diarrhea and vomiting. Side effects of taking CoQ-10 are typically mild and stop if you discontinue taking the supplement; however, MayoClinic.com advises caution to people who take CoQ-10 with liver disease or while taking other medications that cause elevated liver enzymes.
Uses
People take CoQ-10 in attempts to treat a number of health problems, although there is not enough evidence to conclude that taking this supplement will treat or cure many conditions. Some common reasons people take CoQ-10 include congestive heart failure, high blood pressure, cancer and compromised immune system status. MedlinePlus rates CoQ-10 as "likely effective" for treating rare disorders causing CoQ10 deficiency, and "possibly effective" for preventing heart disease, boosting the immune systems of people with HIV and AIDS and lowering blood pressure. However, there is not enough evidence to determine whether CoQ-10 can treat cancer or high blood sugar in people with diabetes.
Causes of Elevated Liver Enzymes
Elevated liver enzymes typically indicates damage or inflammation to the liver cells. Besides CoQ-10, taking other medications, including over-the-counter painkillers such as acetaminophen and prescription statin drugs to lower cholesterol, can also cause higher-than-normal liver enzymes. Obesity can also cause liver enzymes to be elevated. Elevated liver enzymes may also indicate a more serious disease of the liver including hepatitis, nonalcoholic fatty liver disease, and cirrhosis.
When to See a Doctor
A doctor can do a blood test to determine whether you have elevated liver enzymes and further tests to determine whether your elevated liver enzymes is a side effect of taking CoQ-10 or if it is caused by another medication or a serious liver disease See a doctor if you have symptoms indicating the early warning signs of liver disease, which include: fatigue, loss of appetite, mild weight loss and a feeling of malaise. Jaundice and enlarged liver are symptoms of more advanced liver disease.
Warning
There is not enough evidence to determine whether CoQ-10 use is safe for children, pregnant women or people with blood pressure problems. MedlinePlus also recommends discontinuing CoQ-10 supplementation at least two weeks before a scheduled surgery as it may interfere with blood pressure during and after surgery. CoQ-10 may also lower blood sugar levels and MayoClinic.com advises people with blood sugar disorders such as diabetes or hypoglycemia to use caution when taking CoQ-10.