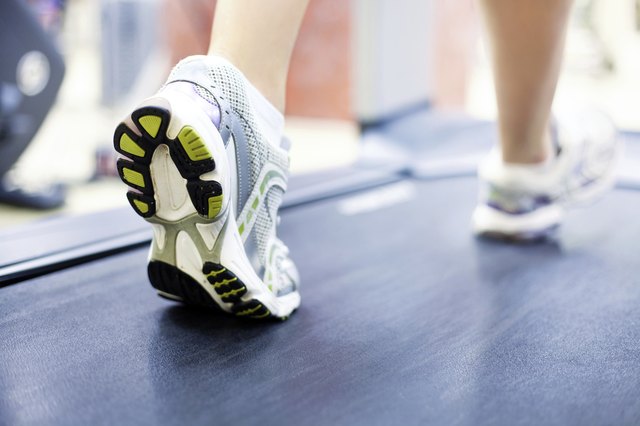 If you use the incline feature built into many treadmills, you can create imaginary hills, giving you almost the same intensity for your indoor run or walk as you would get outdoors. Because most treadmills allow you to adjust the incline in increments of 1 percent, with some allowing as much as a 15-percent grade, you get to choose just how steep your imaginary hills are. Deciding how much of an incline to use depends on your level of conditioning and the results you seek.
For the Beginner
To get your treadmill workout to at least the same level as walking or running outdoors on flat terrain, you need at least a 1-percent incline. This incline accounts for the lack of wind resistance you encounter indoors, as long as you avoid gripping the handrails as you exercise. When you release the handrails, your lower body and postural muscles have to work harder to keep you upright, which helps improve muscle mass and overall conditioning. Keeping your pace easy and increasing the incline by 1 percent every 1 to 2 miles, until you've reached your maximum working heart rate, will continue the toning and cardiovascular benefits of your treadmill routine.
For the Intermediate
The experienced beginner and intermediate treadmill user can set the incline feature to simulate a run through the foothills; however, you should avoid true hill courses on the treadmill until you can run at an easy pace for 5 miles. Start with a 10-minute walking warm-up followed by a 1-mile run at an easy pace, a 3/4-mile run at an incline of 2 percent, 1/2 mile at 3 percent and 1/2 mile at 4 percent. After reaching the top of your hill at 4 percent, lower the incline back to 3 percent for 1/2 mile, 2 percent for 3/4 mile and then 1 percent for your final mile. As your fitness level improves, adjusting the inclines to slightly higher levels for longer periods increases the intensity of the workout.
Sculpt Your Muscles
Increasing the incline on your treadmill causes the muscles in your legs and buttocks to dig in and become stronger as you force them to move uphill against gravity. Speed is not the goal with incline workouts used for muscle sculpting. For a 20-minute glute workout, set the speed to 3.5 mph for beginners, 4 mph for intermediates and 5 mph for advanced athletes. Increase the incline for 1 to 2 minutes at a time -- taking it from 3 percent to 8 percent, back down to 4 percent, up to 10 percent and so on.
Keeping it Healthy
Include aerobic exercise, such as treadmill walking, for 20 to 30 minutes a day, three to five days per week. Before your workout, start off slowly with a 5- or 10-minute brisk walk or jog on a flat surface. A well-rounded exercise program also includes strength training two to three times per week and flexibility or stretching exercise every day. Always check with your physician before beginning an exercise program or increasing the intensity of your workouts, especially if you have a history of heart disease, joint disease or another serious medical condition.