A torn labral can be treated both nonsurgically or with surgery, depending on the extent of the tear. In either case, stretching exercises are an important part of the rehabilitation process. The labrum is cartilage that surrounds the hip joint, which is a ball and socket joint. The labrum seals the hip joint, helps distribute stress on the joint and increases your stability for normal activities such as walking and running.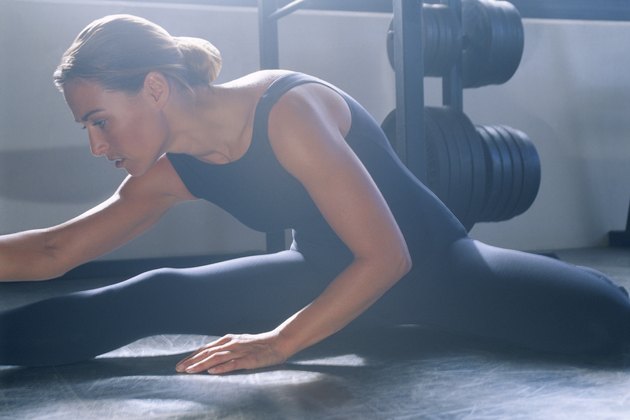 Nonsurgical Treatment
Although a torn labral usually requires surgery, milder tears can be treated by physical therapists or athletic trainers. They can develop a rehabilitation plan that tends to be conservative. You probably will be asked to refrain from sports and might need to use crutches for a time. The University of Wisconsin Hospital and Clinics provide a customized exercise program that helps correct muscle imbalances and movement patterns that put too much stress on the hip joint. Treatment may include hip joint mobilizations to relieve pain, stretching and range of motion exercises, and stretching exercises to increase the strength of your hip muscles. Your labral tear may not fully heal because of the lack of blood supply in the area, but nonsurgical treatment can reduce pain, and stretching and other aspects of rehabilitation may get you back on the playing field.
Rehabilitation After Surgery
Your physical therapist or trainer will help you regain full range of motion in the hip joint and increase strength in the area. Patients are usually on crutches for about two weeks after surgery, and it often takes eight to 12 weeks to return to action. Stretching exercises mirror those for nonsurgical patients with torn labrals, focusing on muscle strength and range of motion exercises. Rehab starts as soon after surgery as the patient can tolerate it.
Specific Stretches
The PhysioAdvisor recommends four common stretches for torn labral. For hip flexion stretches, lie on your back and raise your leg to your chest as far as you can without pain. The hip abductor stretch instructs you to lie on your back with your feet flat on the ground. Move your knee to the side as far as possible without pain. For the hip external rotation stretch, lie on your back with your knee bent, then move the knee to the side as far as possible without pain. The bridging stretch requires you to lie on your back with both knees bent before pushing up with your feet to form a bridge off the floor.
Prehabilitation
If you want to help avoid a torn labral or other hip injury, consider a workout that includes stretches designed to strengthen the hip area and prevent problems such as torn labrals. Strengthen your hip flexors with yoga poses like Warrior II and Triangle. And to increase your hips' range of motion, practice Pigeon pose on a regular basis.