The bench press is a common upper-body strength-training exercise that can be performed by athletes and fitness enthusiasts. Athletes such as football players commonly perform a bench press test involving maximum repetitions with the weight set at 225 pounds.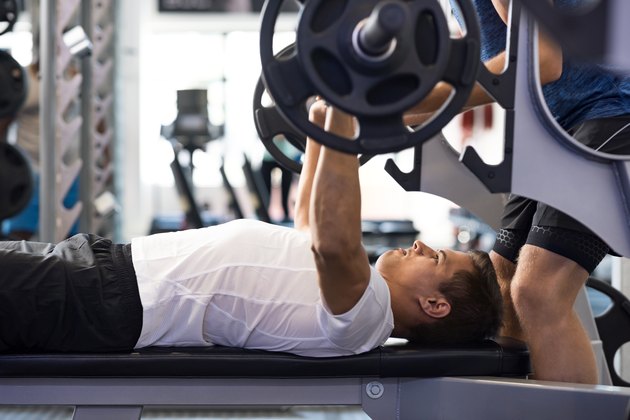 This strength test is designed to test the athlete's muscular strength and endurance. As a result, increasing reps with 225 pounds can be accomplished through dedicated training that incorporates specific workouts. Consult a doctor before starting a program and seek workout advice from a certified personal trainer or strength and conditioning coach.
1. Plan Your Routine
Start your training by planning a three-week cycle of bench press workouts. Train using the bench press two to four times per week. After the third week take one week off to recover before beginning another three-week cycle. Record your bench press workouts in a training manual.
Each workout should follow the "progressive overload" principle that relates to gradually increasing the amount of weight and repetitions. For example, week one may include a workout using 185 pounds, while the following week will include a workout with the same number of sets and repetitions but using 190 pounds.
2. Master Your Form
Use proper form during every workout and every repetition. Proper form helps you use energy and force more efficiently by reducing wasted motions, which helps you get more repetitions.
To bench press properly, make sure you keep both feet planted firmly on the floor throughout the repetition. Your lower back should be arched with your shoulder blades squeezed together, puffing your chest out. Inhale before lowering the bar and hold your breath as you lower it. Exhale when you begin to press the bar off of your chest.
3. Structure Each Workout
Start each workout with a total body warm-up for at least 10 minutes. The warm-up should include a series of bodyweight exercises that target the muscles you use for the bench press, such as pushups and pikes.
You can also do cardio exercises such as running to warm up your body and flexibility exercises such as chest stretches. The goal of the warmup is to increase your range of motion and prepare your muscles to exert force.
During the main part of your workout, you'll perform the barbell bench press. Alternate heavy and light bench press workouts every time you train, so that you don't do two heavy or light workouts in a row.
Heavy Workouts
For your heavy workouts, try to use a weight that is more than 225 pounds or near your one-rep maximum. The goal is to increase your strength so that 225 pounds feels light. Example workouts include five sets of five repetitions, three sets of three repetitions or seven sets of one repetition.
Light Workouts
For light bench press workouts, use a weight lighter than 225 pounds with the goal of performing a maximum number of repetitions to increase your endurance. For example, use 185 pounds or less and perform three to five sets of 10 to 30 repetitions.
4. Change Things Up
Use resistance bands for variable resistance workouts. Hook the bands around the bottom of the bench press so that they pull the bar down as you press up. The added resistance as you press will force you to practice fast, explosive movements during every repetition.
Perform other exercises, called auxiliary lifts, to build up the major muscles that contribute to the bench press. Your chest, shoulder and tricep muscles are among the most important. Use exercises such as dips, lat pulldowns, incline bench press, decline bench press, tricep push-downs, push-ups and pull-ups to work those muscles.
5. Track Your Progress
Perform a 225-pound bench press test every two to three weeks and record the number of repetitions you complete. This is the best way to learn what to expect during the test along with improving the overall number of repetitions.