It's common to feel concerned about your what foods you can eat following gallbladder surgery. Your gallbladder is a small sack that stores bile -- a substance that aids in fat digestion. If you develop a serious gallstone or other blockage, your doctor may recommend gallbladder removal surgery. Following your procedure, you're allowed to return to your normal eating habits. However, most patients find it better to follow a bland diet during recovery. The typical recovery time for laparoscopic gallbladder removal is 1-3 weeks.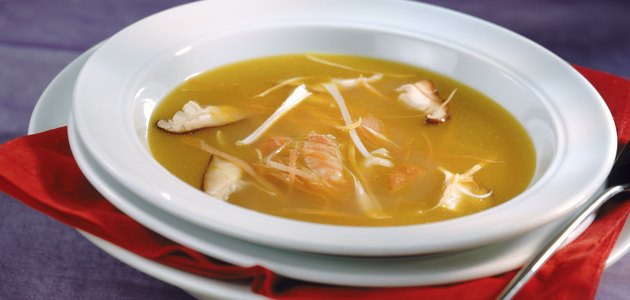 The Spice Trap
It's common to experience problems digesting spicy foods immediately after gallbladder surgery and during recovery. If this is the case for you, avoid spicy foods for a while. This includes foods seasoned with spices such as chili powder, black pepper, cayenne pepper, garlic, hot peppers and paprika. You can use herbs such as basil, bay leaf, parsley, rosemary and thyme in place of spices. As you heal from surgery, you can test your tolerance to determine whether you can tolerate spices, as well as which ones and how much.
Greasy and Fatty Foods
After having your gallbladder removed, bile drips directly into your small intestines, instead of being stored. Because the bile is less concentrated, it may make eating oily and high-fat foods difficult at first. For this reason, patients commonly find it better to avoid greasy and fatty foods during recovery. This refers to foods that are fried in oil or foods with a high fat content. Some examples include French fries, fried chicken, pizza, processed meat and many fast food items.
Other Foods to Avoid
If you decide to follow a bland diet during recovery, it's typical to avoid other foods that might irritate your digestive system. These include high-fat dairy, strong cheeses, raw vegetables, dried fruit, seeds, nuts, fresh berries and other raw fruit, whole-grain breads, crackers and pasta, pickles, sauerkraut and other similar foods. You may want to avoid gas-promoting vegetables, such as broccoli, cabbage, cauliflower and cucumber.
Easy-to-Digest Foods
If you decide to follow a bland diet during recovery, the goal is to stick to foods with minimal seasoning that are easy to digest. Low-fat dairy, cooked vegetables, fruit, hot cereals, soups, tender lean meats and other lean proteins, such as tofu and eggs, are the types of foods you can expect to eat on a bland diet. Everyone is different, and you may find that you can easily tolerate some foods and not others, so avoid any food that you find causes digestive discomfort.