Sports and abdominal exercises can help strengthen and improve the appearance of your stomach muscles. However, too much exercise can be a bad thing. In fact, serious injury can occur if you overwork the abdominal muscles. This makes it important to understand what types of injuries can occur before starting a sports or fitness routine.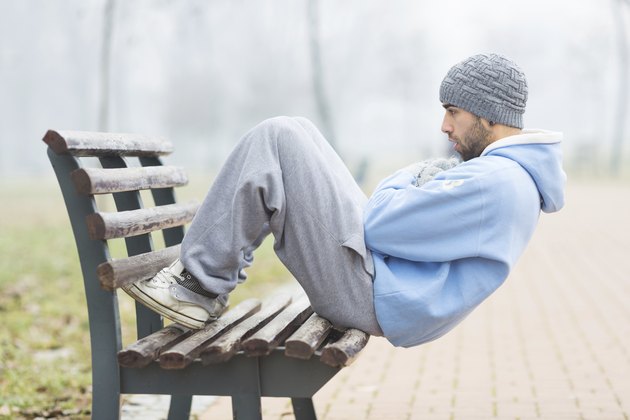 Cramps
The abdominal muscles can experience cramping if overworked, the MedlinePlus online medical encyclopedia cautions. These involuntary muscle contractions can be extremely painful. In addition, the muscles in the abdomen can actually appear to bulge out and feel hard to the touch. Although heat, massaging and stretching the abdomen can help to relieve pain, consult a doctor if the cramps are chronic, severely painful or do not ease with home remedies.
Muscle Sprain
Overworking the abdominal muscles can cause the proteins inside of the muscle fibers to tear, resulting in a sprain. These fibers are responsible for muscle movement and flexibility, making even simple motions, such as sitting up, painful. In the book "Symptoms: Their Causes & Cures," Dr. Priscilla Clarkson explains that it can take up to five days for the proteins in the muscle to repair themselves — and for you to regain muscle strength.
Muscle Strain
Muscle strain can occur if a tendon — the tissue that connects bone and muscle — in the abdomen becomes stretched or torn. Symptoms can include spasms, swelling, pain and limited mobility. Chronic abdominal muscle strain can occur due to repeated, extended movements of the muscles in the abdomen. Some sports such as gymnastics and rowing can cause this to occur. Contributing factors can include muscle fatigue, lack of conditioning and improper warm-up.
Bursitis
Bursitis is a medical condition that causes swelling, pain, stiffness and achiness of bursae — tiny pads that are full of fluid to protect the bones, tendons and muscles from injury, according to the National Institute of Arthritis and Musculoskeletal and Skin Diseases. Overuse can cause bursitis in the pelvic and abdominal area, resulting in inflammation of the bursae. This condition is not typically serious — rest, ice and anti-inflammatory medication can usually ease symptoms. However, in severe cases, a doctor can inject a corticosteroid directly into the problematic bursae.
Is This an Emergency?
If you are experiencing serious medical symptoms, seek emergency treatment immediately.