By adjusting the rep range used in a strength-training workout, it's possible to alter how the muscles respond. For example, by exercising with a higher rep range (15 or more repetitions per set) you can tone and improve muscular endurance without adding extra size or weight to the body.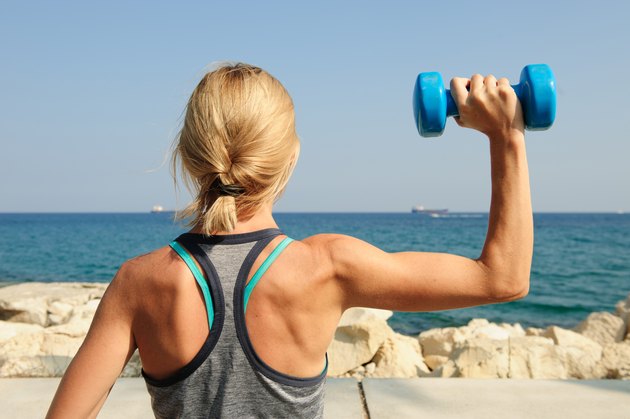 Don't forget that strength training is only one part of the weight-loss formula, though. Include regular cardio training and a calorie-reduction into a fitness routine for optimal weight-loss. It's also a good idea to consult a physician before starting any exercise or weight-loss program.
High Reps Build Endurance
According to an 2014 article by Pete McCall published in ACE Fitness, someone interested in improving their muscle tone and endurance without gaining muscle weight should use a weight that allows 12 or more reps before the body runs out of steam.
There is also no need to worry about intensity to get the most out of high repetition training. A 2016 study published in the Biology of Sport concluded that high-volume (lots of repetitions and sets) training is as effective for reducing body fat as high intensity interval training (HIIT), where an exerciser is pushing the limits of their abilities for very brief sets.
Circuit Training for Fat Loss
Include circuit training into a strength-training program for increased fat loss. Circuit training consists of performing a series of exercises (a circuit), back-to-back, with little rest between exercises.
Because circuit training is an intense and fast-paced workout, it's possible to burn up to 570 calories per hour, according to a 2011 article from ACE Fitness. A high rep range combined with the multi-joint exercises typical of circuit training is time-efficient and will burn loads of excess calories.
For example, someone can do 15 to 20 reps each of the following exercises (with little to no rest in between): squat with overhead press, bench press, lunges, dumbbell back rows, bicycle crunches, squats, kettlebell swings, deadlifts, burpees and a 60-second plank. Repeat this circuit three times. If you're not familiar with these movements, speak to a certified fitness trainer to learn the proper form and avoid injury.
Keep Your Heart Rate Elevated
It's important to maintain the heart rate between 70 to 80 percent of maximum while working out to burn fat calories while the weight being lifted tones and tightens muscles. HealthyCalcualtors.com has a great heart rate calculator to make figuring this out easy.
Should your heart rate slow too much, quickly elevate it by decreasing the rest period in between sets, or doing the movements faster (while maintaining proper form)..
The Importance of Calorie Control
Because weight loss occurs only when you burn more calories than you eat, don't neglect the importance of calorie control in your efforts. Whether someone is trying to gain or lose weight; the calories consumed remain a fundamental component of weight control.
It doesn't matter how much exercise someone does if they eat enough calories to prevent the body from using its fat reserves. Visit Nutrition.gov to learn the components of a healthy eating plan and calculate how many calories you can eat every day to lose weight in a healthy manner.
It's hard to go wrong by following a diet of lean meats, legumes, fruits, vegetables, low-fat dairy and whole grains. You can also track what you eat with an app like LIVESTRONG.COM's MyPlate.
More About MyPlate
The free LIVESTRONG MyPlate calorie tracker app for iPhone and Android has helped millions of people lose weight the healthy way — by getting support from an active community as they track their eating and exercise. Consistently a top-rated app, MyPlate offers the latest technology in an easy-to-use tool that includes millions of foods and recipes, 5-minute in-app workouts and a robust support community.