Growing taller after adolescence might be a bit of a stretch. However, with exercises like Pilates and yoga you can improve your posture and look taller. Yoga, Pilates and stretching in general creates a longer, leaner look by loosening the muscles in your chest and strengthening and lengthening the muscles in your back and neck.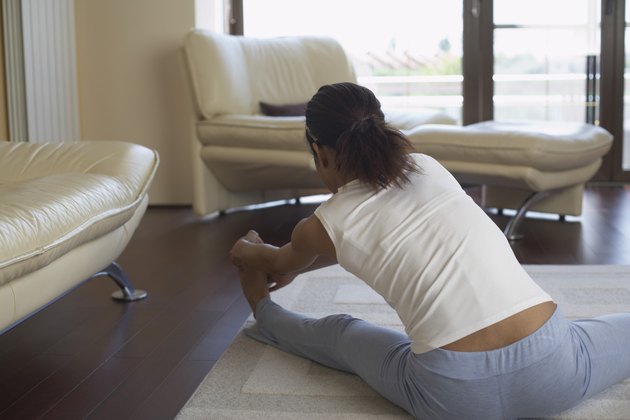 Step 1
Strengthen your core muscles. Lie on your back with your knees bent to do the pelvic tilt stretch. Exhale and contract your abdominal muscles while pushing your bellybutton into the floor. Hold for five seconds, release, and then repeat the exercise 10 times.
Step 2
Stretch your back muscles. Sit on your mat with a straight back. Pull the flesh of your buttocks out to the sides. Exhale, and lean your upper torso forward over your outstretched legs. keep your feet flexed at all times. Reach your hands toward your feet. If you can't grasp your toes with your hands; grasp your shins. Do not bend your neck down, nor round your back. Stay in Seated Forward Bend for up to one minute and practice this yoga pose every night before you go to bed.
Step 3
Stretch your hamstrings. Tight hamstring muscles will cause lower back pain and poor posture. Lie flat on your back and slowly raise an extended leg into the air until you feel a comfortable stretch. Hold for 10 to 20 seconds, and switch legs. Repeat the exercise three times.
Things You'll Need
Pilates or yoga mat

Comfortable clothes
Tip
Even if you do gain a bit of length in your spine through stretching, you won't keep your new height for long if you don't stretch and watch your posture every day. Make stretching an integral part of your day.
Warning
Check with your health-care provider before beginning an exercise program for the first time or if you have been away from fitness programs for a while, or if you have any chronic health issues.