The ECA stack combines ephedrine, caffeine and aspirin in a predetermined ratio. It causes your body to target specific fat cells to be burned for energy, all the while raising your overall metabolic rate and suppressing appetite. Each ingredient in an ECA stack works in conjunction with the next. Ephedrine works as a beta agonist and stimulates production of norepinephrine, as well as circulating it through adipose tissue by way of increasing cAMP levels. The caffeine and aspirin function to inhibit the body's natural response to halt this cAMP production, thus prolonging the effects. If you want to take an ECA stack, review your medical situation with your health care provider before you begin.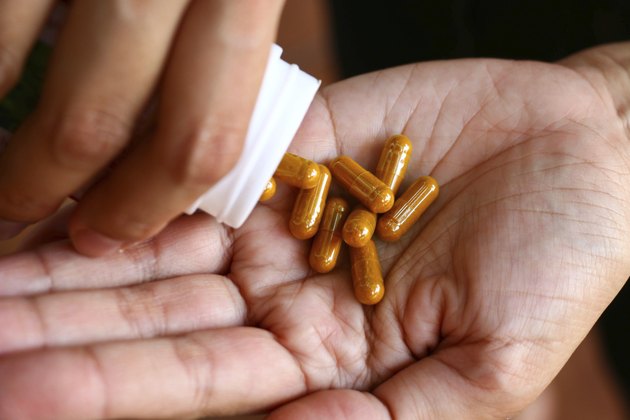 Step 1
Compile the necessary ingredients into a series of doses. Ephedrine can be purchased as ephedrine sulfate or ephedrine HCL. Ephedrine sulfate is slightly purer, but either will work. Caffeine is sold in 200 mg tablets, and baby aspirin tablets contain 81 mg. Aspirin is sometimes studied for efficacy in a higher dose, but it can be potentially harmful to consume in large doses, and the difference to the stack is negligible.
Step 2
Consume ephedrine, caffeine and aspirin doses up to three times a day, and no more than four, in equal intervals. Slowly taper the dose upward as your tolerance increases. Begin at one dose each day, and add in the next dose every two to four days until you reach the full amount. Take the first dose immediately upon waking. Take each subsequent dose on an empty stomach, at least four hours after the previous one. Avoid taking too close to bedtime as it may interfere with sleep.
Step 3
Repeat this process for up to eight weeks. Do not exceed this time without taking a break, as your body will gradually build up a tolerance to the ECA stack, and it will cease to work. To maximize the effects of ECA for both fat loss and energy, it is advised to take one to two days off each week to allow your receptors to recover and avoid adrenal fatigue.
Things You'll Need
25 mg ephedrine

200 mg caffeine

80 mg aspirin
Tips
The ECA stack is intended for use in conjunction with a healthy diet and exercise regimen. To lose fat, you must consume a deficit of calories each day. Consume plenty of water throughout the day, as ephedrine and caffeine are strong diuretics and you will dehydrate at a much more rapid rate. Daily exercise will exacerbate the fat loss. Low-intensity aerobics or resistance training is ideal, as intense cardio will raise your heart rate too much and may be dangerous.
Warning
The ECA stack combines strong stimulants. It should not be used if you have a pre-existing medical condition or if you are at risk for heart disease. Consult a doctor before beginning ephedrine use, and monitor blood pressure and heart rate regularly. Do not use if you are sensitive to stimulants.