Peptic ulcers are ulcers that occur in the lining of the stomach or the first part of the small intestine called the duodenum. The foods you eat cannot cause an ulcer, but they can further irritate your ulcer and delay the healing process. Avoiding foods that are spicy and high in acid content and consuming milder, low-acid foods instead will help your ulcer heal.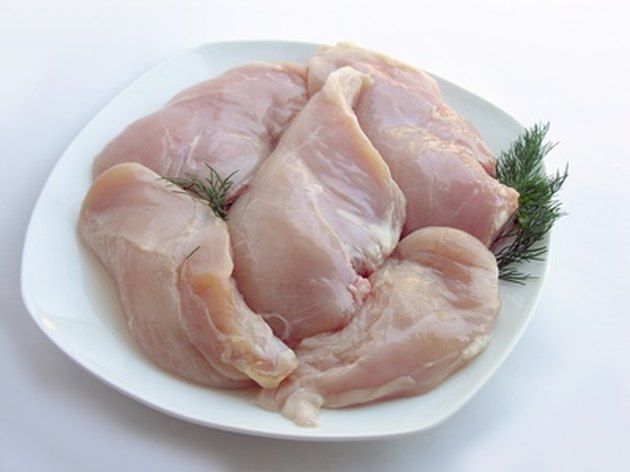 Beverages
Drink herbal tea, caffeine-free soda and low-acid fruit juices such as apple juice and grape juice. Drink plenty of water, and avoid alcoholic beverages, high-acid juices such as tomato juice and orange juice and all caffeinated drinks. In addition, drink milk in limited amounts and opt for low-fat or fat-free selections. Although milk will initially have a soothing effect on your ulcer, it will soon wear off, as milk is a high-acid producer.
Proteins
Eat lean meats including fish, skinless poultry, pork loin and seafood. Have peanut butter, eggs and tofu, and eat limited amounts of low-fat or fat-free dairy products. Avoid fatty meats such as sausage, salami, bacon and ham, and do not eat corned beef or beef jerky. Cook meat by broiling or baking rather than frying.
Breads and Starches
Consume pasta, rice, mashed or baked potatoes, saltine crackers and bread. Eat dried cereals, cream of wheat, cream of rice and oatmeal. Stay away from french fries, fried potatoes and spicy or greasy potato chips. Also, avoid dried peas and beans if they cause gas or any other type of stomach distress.
Fruits and Vegetables
Eat bananas, berries, grapes, apples, peaches, pears, kiwi, melons and berries. Do not eat oranges, grapefruits, lemons or limes, which are all high-acid foods and may increase stomach acid production. Avoid vegetables such as broccoli, cabbage, cauliflower and Brussels sprouts if they cause you to experience excess gas or any type of stomach discomfort. Also, do not eat chili peppers, onions, garlic, tomatoes or tomato-based products, and avoid vegetable juices.
Miscellaneous
Eat low-fat creamed soups and bouillon, and opt for snacks such as air-popped popcorn and plain baked potato chips. Use mild spices when cooking such as salt, and avoid all types of pepper. In addition, do not eat peppermint, horseradish, pickled foods or any spicy sauces or marinades.