The more toxic your body is, the more difficult it is for you to lose weight, according to Ann Louise Gittleman, author of "The Fast Track One-Day Detox Diet." The human body is designed to rid itself of toxins, but it can become overwhelmed by the sheer volume. Some supplements, such as psyllium husk and bentonite clay, may support detoxification and promote weight loss, but more research is needed. Speak to your doctor before trying these supplements.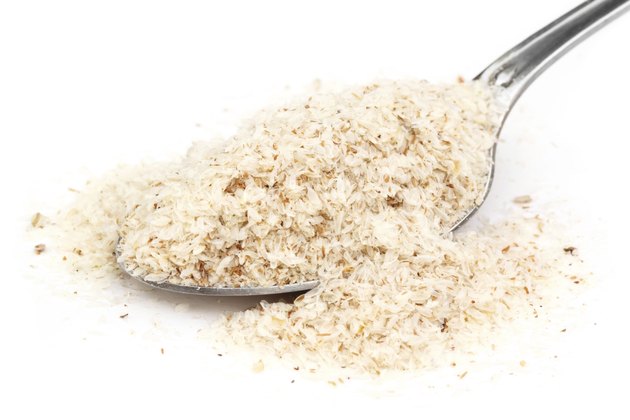 Definitions
Psyllium is a soluble fiber that comes from the seeds of the herb Plantago ovata, which is widely grown in India. It is a common ingredient in laxatives. Bentonite clay, or montmorillonite, comes from volcanic ash that's used for various purposes, including detoxification.
Benefits
Toxin overload impairs various processes in your body, including metabolism, says Gittleman. Psyllium fiber absorbs moisture and swells in the colon, helping to ease bowel movements and the removal of toxins. Bentonite clay absorbs toxins and removes years of accumulated, caked-on material in your colon, according to Jacqueline Krohn and Frances Taylor, authors of "Natural Detoxification."
Preparation
Taylor and Krohn recommend mixing 1 tablespoon of liquid bentonite clay with 1 tablespoon of psyllium husks. Liquid bentonite can be prepared by mixing 2 ounces of bentonite clay with 1 quart of filtered or bottled water and letting it stand for 12 hours. After drinking the psyllium-clay mixture, they advise drinking 8 ounces of filtered or bottled water. Do not take food 2 hours before or after drinking the mixture, which is normally taken 3 times a day for three to four days.
Caution
In some cases, a psyllium-clay colon cleanse can cause constipation. Taking vitamin C or magnesium might help, according to Krohn and Taylor. Also, psyllium can cause bloating or gas and interact with some medications, warns the University of Maryland Medical Center. Do not take psyllium if you have difficulty swallowing or have kidney disease.