Lipitor -- generically called atorvastatin calcium -- is a medication in the class of drugs called statins widely used in the United States for the treatment of high cholesterol and cardiovascular disease. Most people tolerate the drug well, although a potentially serious side effect involving the liver can rarely occur. Monitoring for this complication by testing liver enzyme blood levels is routinely recommended.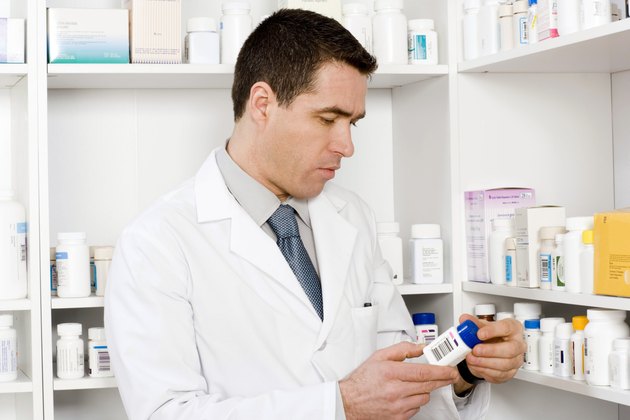 Statins for Lowering Cholesterol
High cholesterol levels are a significant risk factor for cardiovascular diseases such as heart attack and stroke, along with obesity, lack of physical activity, smoking, diabetes and high blood pressure. If you exercise regularly, eat a healthy diet and have quit smoking but your cholesterol levels remain higher than recommended, your health care provider might advise taking a statin drug such as Lipitor. Statin drugs work in the liver to help decrease your body's production of cholesterol, and are also thought to help remove cholesterol already deposited in plaques on the blood vessel walls that obstruct normal blood flow.
Side Effects of Lipitor
As with any medication, a variety of possible side effects have been reported with Lipitor, including diarrhea or constipation, gas, headaches and joint pain. Two rare, but potentially serious, side effects that can occur are liver and muscle damage, with symptoms of nausea, upper right abdominal pain and jaundice -- yellowing of the skin and eyes -- or muscle pain and weakness. The liver damage associated with statin drugs involves injury and death of liver cells, which if severe and untreated could result in permanent liver damage with scarring.
Monitoring with Liver Enzyme Tests
Damage to the liver by statin drugs causes an increased release of liver enzymes into the circulation, most commonly the enzymes aspartate aminotransferase or alanine aminotransferase, according to Drs. Mark Russo and Ira Jacobson in the January 2004 issue of the "Cleveland Clinic Journal of Medicine." They reviewed a series of studies looking at statin drugs, including Lipitor, and found that less than 2 percent of people taking statins developed elevated liver enzymes. The enzyme elevations usually occurred during the first 12 weeks of treatment, correlated with higher doses of medication and lacked any accompanying clinical symptoms of liver damage. When the statins were stopped, liver enzymes returned to normal.
Recommendations for Statins
Lipitor and other statins are not recommended if you have active liver disease or develop a marked elevation of liver enzymes after starting your medication. However, given the benefits of this class of drugs in lowering cholesterol and helping prevent cardiovascular disease, they might still be used when liver enzymes are only mildly elevated. You should discuss the options with your health care provider, who will need to consider your personal risk factors for cardiovascular disease, diabetes, cholesterol levels and any known liver problems, including alcohol use, when deciding whether or not to use a statin drug. Blood tests for liver enzyme levels are usually performed within 6 weeks of starting Lipitor and periodically thereafter.