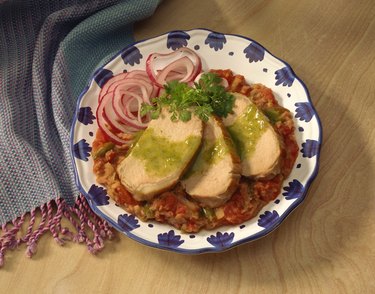 Red meat provides you with high-quality protein, but many cuts contain a great deal of saturated fat, resulting in a high calorie count. Lean cuts of meat still offer all the protein, with far fewer calories. When following a low-calorie diet, you can enjoy certain types of protein-rich meat, along with chicken, fish and vegetarian protein sources, to obtain optimal amounts of iron, zinc and vitamin B12 content.
Extra Lean Beef
The leanest cuts of beef are eye of round, sirloin tip, top round, bottom round and top sirloin. To make sure they are the lowest in calorie, have the butcher trim them to zero percent fat. These cuts offer about 47 to 60 calories and about 8 g protein per ounce. Compare this to boneless, skinless chicken breast with 8 g protein and 40 calories per ounce. To avoid adding extra calories to these meats, rub them with spices and roast, grill or broil without oils, butter or bottled sauces.
Veal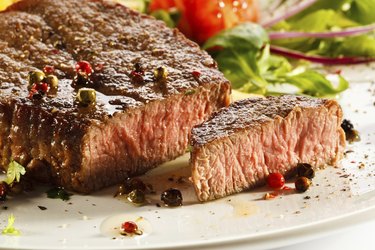 Veal is the meat of a calf and has a delicate flavor. The sirloin cut of veal contains 48 calories and a little more than 7 g protein per ounce. Veal is controversial among some animal advocates because of the ways in which the calves are raised.
Venison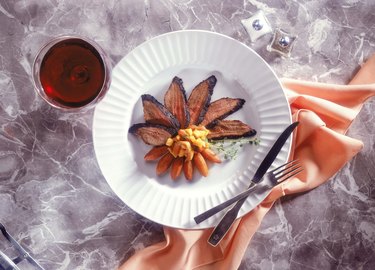 Venison is the meat from deer. It is leaner than beef, providing just 45 calories per ounce. On average, it has almost 9 g protein per ounce. Prepare venison steaks as you would beef, but avoid overcooking because it can dry out easily.
Pork Tenderloin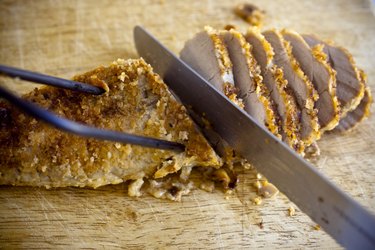 Pork tenderloin is a quick-cooking piece of meat that contains 47 calories and 8 g protein per ounce. Tenderloins are thin strips of meat, as opposed to thicker rolls that still contain some fat and a higher number of calories. Roast the tenderloins whole with herbs and balsamic vinegar, or slice into steaks and sauté in non-stick cooking spray.
Bison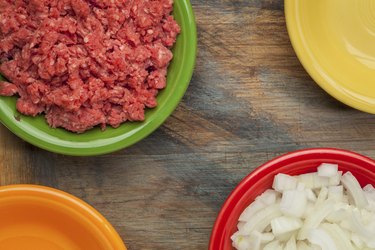 Bison, or buffalo, contains 41 calories and 8 g protein per ounce. Use ground buffalo instead of ground beef for a burger, meatloaf or taco. Look for steaks trimmed of most visible fat to make sure calories are low.