How many calories you need to eat each day depends on your age, sex, height, weight and activity level, plus whether you want to lose, maintain or gain weight. In general, women need 1,600 to 2,400 calories a day, and men 2,000 to 3,000 calories a day, according to the Dietary Guidelines for Americans 2010. A 1,600-calorie diet is a lower-calorie diet for most people and is considered a weight-loss diet for men and women who weigh more than 165 pounds.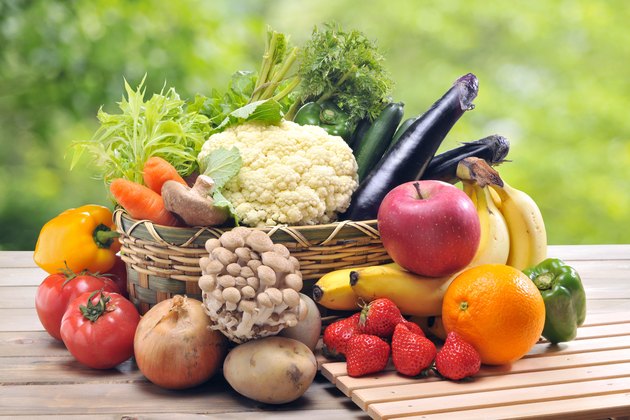 Diet Basics
When following a lower-calorie diet you have less room to fit in all your nutrient needs, making it even more important that you include mostly nutrient-dense foods -- fruits, vegetables, whole grains, low-fat or nonfat milk products and lean sources of protein. FamilyDoctor.org suggests that you eat three meals a day plus one snack, and that each of your meals be about the same size, which means on a 1,600-calorie diet each meal should contain 500 calories, leaving 100 calories for your snack.
Start the Day Right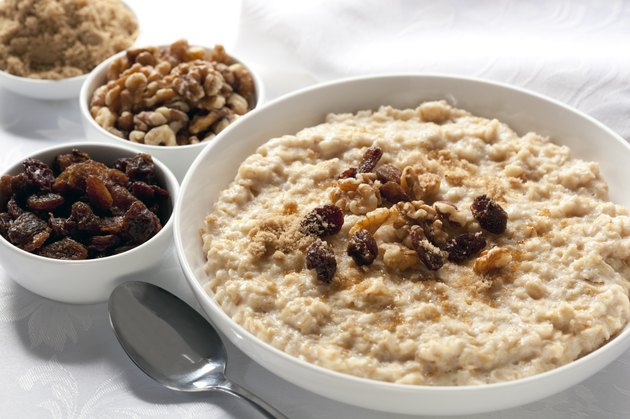 According to FamilyDoctor.org, people who skip breakfast tend to overeat at their next meal, which can lead to weight gain. A healthy breakfast should include most of the food groups. An example of a balanced 500-calorie breakfast might include 1 1/2 cups of cooked oatmeal topped with 2 tablespoons of raisins and 12 chopped almonds, served with 1 cup of nonfat milk.
Fruits and Veggies for Lunch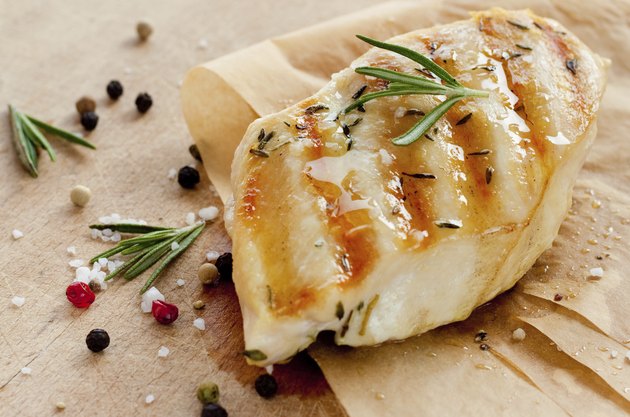 Focusing your meals around fruits and vegetables can help you save calories while increasing your nutrient intake. Additionally, the fiber in fruits and vegetables keep you feeling full, so you eat less. A healthy 500-calorie lunch might include an entree salad consisting of 2 cups of mixed greens topped with 3 ounces of grilled chicken breast, 1/2 cup of chickpeas and 2 tablespoons of low-fat salad dressing, one large pear and 1 cup of nonfat, sugar-free yogurt.
Lean Proteins at Dinner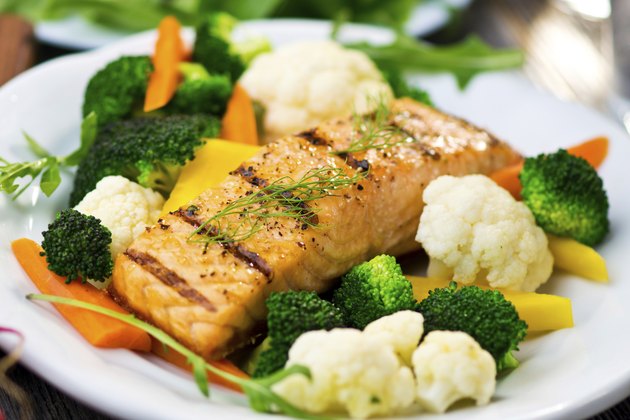 To save calories at dinner, and also limit your intake of saturated fat, make most of your protein choices lean -- this also helps at breakfast and lunch. Lean sources of protein include light meat poultry, seafood and lean red meats such as beef sirloin or a pork center chop. A healthy dinner on your 1,600-calorie a day diet might include 3 ounces of grilled salmon served with 1 cup of cooked brown rice and 1 cup of broccoli sauteed in 1 teaspoon of olive oil.
Snacks for Hunger Control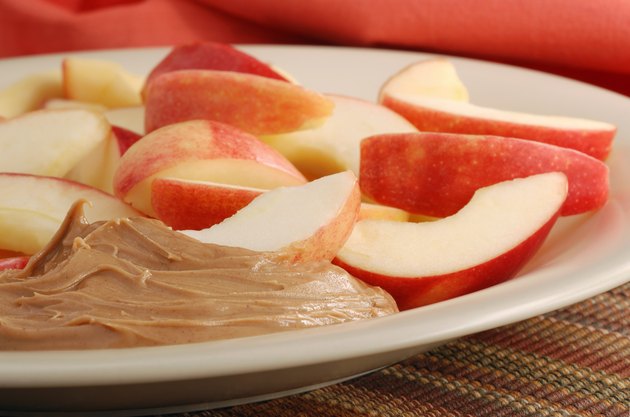 Snacking not only controls hunger, but also gives you energy. As with your meals, your snacks should emphasize nutrient-dense foods. Examples of healthy, 100-calorie snacks include 1/2 cup of whole-grain unsweetened cereal with 1/2 cup of nonfat milk, one small apple sliced and smeared with 2 teaspoons of peanut butter, 2 cups of mixed greens with 2 tablespoons of low-fat dressing, or 4 cups of air-popped popcorn.