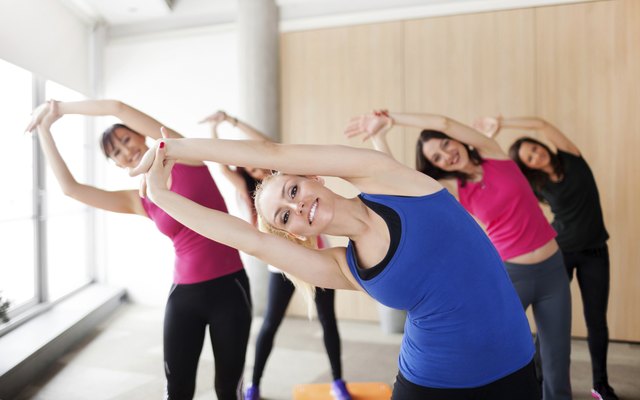 Because of female roles like pregnancy and breastfeeding, women tend to store more fat on their bodies to ensure adequate energy for these tasks. This can make it more challenging for you to get a lean, toned body. Additionally, a fear of bulking up might make you reluctant to do strength-training. Fortunately, with a little dedication to certain fitness routines and diet, you can gain some lean muscle mass and still look trim.
Step 1
Do a full body strength-training program three days a week. Perform between two and five sets per exercise and use weights heavy enough that you can only do between eight and 12 repetitions to ensure you build lean muscle. Doing more than this can actually impede muscle growth.
Step 2
Make interval training, where you alternate between high- and low-intensity exercise, your cardiovascular exercise of choice. Including cardio in your routine will ensure you build lean muscle rather than bulk. Interval training in particular helps promote muscle growth and also will boost metabolism, which will prevent the excess calories you need to maintain your muscle-building routine, from turning into fat.
Step 3
Drink lots of water. Your body needs adequate hydration for adequate fat burning and muscle recovery. Also, dehydration can create a false sense of hunger, leading you to overeat.
Step 4
Eat five or six small meals throughout the day rather than three larger ones. This will keep metabolism up, prevent you from overeating and supply your muscles with necessary fuel for growth and repair.
Step 5
Eat about 1 to 1.5 g of protein for every pound of body weight and include it in every meal. Contrary to popular belief, eating excessive amounts of protein will not ensure faster muscle growth; eating too much can lead to fat gain and put undue stress on the kidneys.
Step 6
Make carbohydrates about 55 to 65 percent of your diet. You need carbohydrates to fuel your workouts and aid in muscle recovery. Good choices include whole grains breads, brown rice, pasta, oatmeal and potatoes.