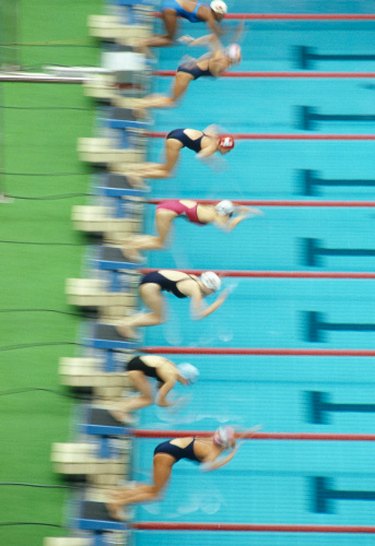 Swimming has been an Olympic sport since 1896, with the 100-meter and 1,500-meter freestyle competitions being held in open water. Since then, additional events, such as the backstroke, butterfly, breaststroke and relays, have been implemented along with an indoor pool. To organize each event and the individual athletes, the pool must be constructed following specific measurements and lane features.
Regulations
The Federation Internationale de Natation regulates the design, layout and overall measurements of Olympic-size swimming pools. FINA functions to create consistency between different pools to ensure they meet the required measurements and is recognized by the International Olympic Committee. FINA also oversees swimming, diving, synchronized swimming, water polo and open water swimming. The committee has a written set of rules that includes every required measurement for the pool.
Volume
Olympic-size swimming pool are approximately 50 m or 164 feet in length, 25 m or 82 feet in width, and 2 m or 6 feet in depth. These measurements create a surface area of 13,454.72 square feet and a volume of 88,263 cubic feet. The pool has 660,253.09 gallons of water, which equals about 5,511,556 lbs.
Features
During a swimming competition, each athlete is assigned to a marked lane. An Olympic-size swimming pool features eight lanes with two outside lanes used as a buffer zone. Each lane measures 2.5 m wide and is marked by a rope and buoys on top of the water and a lane line painted on the bottom. The lane lines end 2 m before the end wall of the pool as an indicator to the swimmer.
Extras
Other measurements, indicators, ropes and lines are used to track events. The false start rope, for example, is used to indicate a false start to the swimmers. The rope is placed 5 m from the start line and suspends across the pool about 1.2 m above the surface. The backstroke turn indicator is a flagged rope used by the swimmers to indicate the end of the lane. The rope is placed 1.8 m above the surface and 5 m from the start line.