When you are running -- whether it is for training purposes, enjoyment or exercise -- obstacles can get in the way. For example, weight issues, arthritis and other orthopedic concerns can make running more difficult. Hemorrhoids are another example of a condition that may be irritated by a physical activity.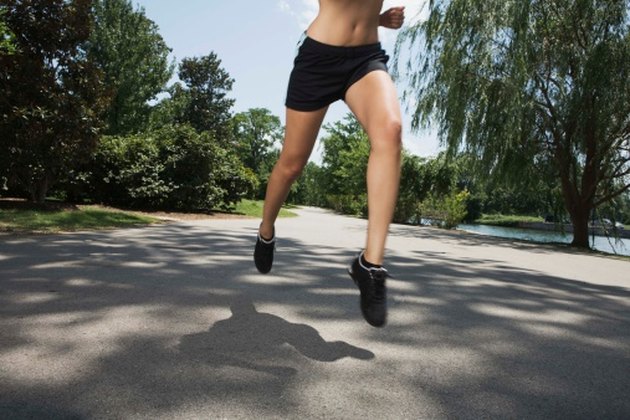 Identification
The word hemorrhoid is a Greek word formed by two different parts. The prefix hemorrh/o means a flowing of blood. The suffix "-oid" is Greek for the word resembling. With this being, hemorrhoids are swollen veins that are located in your rectum. These veins can be located both internally or externally. This sometimes itchy and irritating problem occurs in around 50 percent of adults over the age of 50.
Causes of Hemorroid
There are many causes of hemorrhoids, but running and physical activity are not causes of this condition. Heredity can play a factor as well as having anal intercourse, obesity and chronic constipation. Another cause of this condition is straining and pushing to hard while having a bowel movement. In addition, both pregnancy and the delivering of a baby can cause hemorrhoids. Other causes include frequent diarrhea, sitting on the toilet for extensive amounts of time and even cirrhosis of the liver
Running Can Be an Irritant
Some runners may tell you that they experience bleeding and discomfort to their rectal area while running. This is can be an issue that is related to hemorrhoids and applying pressure to this area. This especially occurs when you are running while having external hemorrhoids because of the friction that can occur.
Treat Hemorrhiods Prior to Running
There are many over the counter creams and ointments used to treat hemorrhoids. Applying these creams when your hemorrhoids are flaring up and prior to running can alleviate some of the pain and itching. If you consult your physician about your hemorrhoids, he can also prescribe certain prescription strength remedies. Finally, prior to running, you may wish to place a soft pad in between your buttocks to avoid the irritation caused by running. If your hemorrhoids get progressively worse, be sure to consult your physician. More invasive procedures may be need such as rubber band ligation, sclerotherapy, laser treatment or even surgical removal.