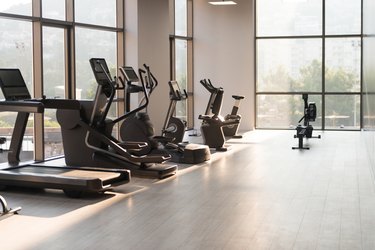 Gym membership statistics show disgruntled gym-goers filed 2,657 complaints about fitness centers to the Better Business Bureau in 2015, earning fitness centers a spot in the top 100 most complained about businesses. Contract disputes and billing issues were common complaints, often directly related to confusion about membership cancellation.
Getting out of a gym membership can be a tricky business, but if you adhere to contract terms and take a direct approach with your cancellation letter, you can protect yourself from future liability.
Before writing your cancellation letter, take a close look at the contract. If you signed up for a specific membership period, you are obligated to fulfill the terms before your cancellation can be processed. However, your gym may allow for early cancellation in certain circumstances.
For example, depending on your contract terms and your state law, you may be eligible for early cancellation if you're moving a certain distance away from the gym or if a health condition prevents you from exercising.
Address your cancellation letter to the appropriate person or department as indicated in your contract. If your contract doesn't specify to whom and what address you should direct cancellation letters, call the gym for clarification.
Otherwise, you risk a delay in the process at the gym's end. Address the person in charge of processing cancellations respectfully, starting your letter with "Dear Mr. Jones," for example.
To cancel your membership, the gym needs your name and membership number. Provide this upfront and clarify it again in your closing. This paragraph need only be two to three sentences long, as in the sample below:
My name is Chris Smith and this letter serves as formal notice of my intent to cancel my gym membership with your company. The membership number assigned to my account is 555555.
Take cues from the contract to help you cover all your legal bases in the second paragraph. If you've met the terms of your contract, say so here. If you qualify for early cancellation, refer to the terms under which you qualify. Gyms generally require 30 to 45 days notice for cancellations and you should include reference to this here, as well. Keep it direct, as in the following model:
My membership is eligible for cancellation on February 1. Please consider this letter as your official 30 days notice of my intent to cancel, as per our contract terms.
After a brief final paragraph, end your letter with a friendly closing. Keep your closing short and to the point, as follows:
Thank you in advance for processing my membership cancellation in a timely manner. If you need to contact me, I can be reached at 555-555-5555.
Sincerely, Chris Smith, member #555555 111 Hwy 1 Jonestown, PA 11111
Send the letter by certified mail so that you have proof of when the letter was received by the gym. This is preferred over hand delivery. If your contract requires you to fill out a cancellation request at the gym, complete this in addition to sending the cancellation letter.