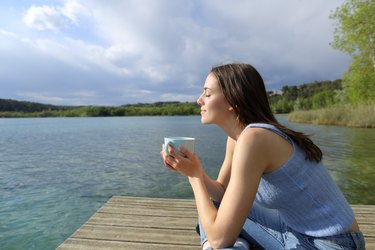 If your mornings are powered by the caffeine in coffee but you have lung damage or a lung condition like chronic obstructive pulmonary disease (COPD), you may wonder what the effects of caffeine are on breathing ability. Here's what to know about caffeine and if it can impact your lung function.
Fact or Fiction: Caffeine Eases Breathing
Caffeine does seem to affect breathing quality — but research is inconclusive on whether that's for better or worse.
On one hand, according to the Asthma and Allergy Foundation of America (AAFA), clinical studies have shown caffeine is a weak bronchodilator that improves respiratory function for 2 to 4 hours post-consumption.
But it doesn't have the speedy or strong response provided by such rescue bronchodilators as albuterol — meaning it is not considered a safe asthma treatment, according to the AAFA.
And when it comes to other respiratory conditions, such as obstructive sleep apnea (OSA), the effect of caffeine yielded mixed results.
One study found an association between soda and more severe OSA breathing, while tea and coffee did not produce the same negative effects, according to the Mayo Clinic. But another study linked caffeine to improvement in OSA symptoms.
If you have COPD, you may have heard caffeine can compound your breathing difficulties, but that relationship is not fully understood either.
According to a small September 2015 study of 90 people with COPD in ‌Pulmonology Journal‌, caffeine was found to have no link to the frequency of worsening COPD.
Though the science on caffeine's effect on your respiratory health is mixed, the reality is fueling up on caffeine is not a primary recommendation for improving your lung health.
"If patients have chronic cough that is due to GERD, I recommend they abstain from drinking coffee, which can worsen acid production and make cough worse," says Washington, D.C.-based Jessica S. Wang Memoli, MD, director of bronchoscopy and interventional pulmonary at MedStar Washington Hospital Center.
"Both caffeine and carbonation can cause increased gastroesophageal reflux (GERD), which can lead to airway irritation, leading to symptoms such as cough and chest discomfort," she says. "There can also be aspiration of gastric contents into the lung, which can lead to fibrosis and bronchiectasis if untreated."
Heart problems that compound your respiratory health concerns may be another reason to abstain, says Frank Coletta, MD, board-certified chief of critical care at Mount Sinai South Nassau in Rockville Centre, New York.
"I recommend patients with underlying cardiac disease or arrhythmias refrain from drinking caffeinated beverages, as caffeine can cause rapid heart rates that can be detrimental in these patients," Dr. Coletta says.
"I also recommend patients with asthma or COPD refrain from drinking carbonated beverages," he adds, "because the lungs of these patients have limited capacity to cope with the increased level of inflammation caused by some of the ingredients in soda."
If you want to take steps to improve breathing or respiratory function, look beyond the stimulant.
"Some beneficial steps in improving lung health are smoking cessation, regular exercise and avoiding harmful pollutants," Dr. Coletta says.
And if you're concerned caffeine may be affecting your ability to breathe, cut back until you can chat with your doctor about whether caffeine is for you.
At the end of the day, it can be hard to know whether you should sip or quit caffeine for your own personal lung health. But, as with most things in life, moderation is probably the best approach, says Jorge M. Mercado, MD, triple board-certified associate section chief of pulmonary, critical care and sleep medicine at NYU Langone Hospital.
"There has been some evidence that caffeine can have a positive impact in lung repair," Dr. Mercado says. "However, it is important to remember to drink caffeine in moderation, as too much caffeine can have a negative impact on heart function."