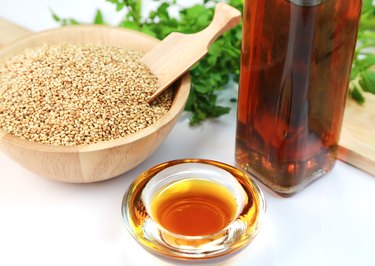 Gingelly oil, also known as sesame seed oil, is prized worldwide for its culinary and medicinal properties. Rich in antioxidants and healthy fats, it reduces oxidative stress, fights inflammation, and supports cardiovascular health. It can also be applied to the skin to improve texture and elasticity. Its mild flavor blends seamlessly with most foods, enhancing aroma and flavor.
Loaded with monounsaturated and polyunsaturated fats, sesame seed oil has been used in Asian cuisine for centuries. One ounce provides more than 5 percent of the daily recommended intake of vitamin K and 2 percent of the recommended daily amount of vitamin E. It's also an excellent source of omega-3 and omega-6 essential fatty acids.
The meaning of "Nallennai" or "sesame oil" in Tamil is "good oil." Many Tamil families add this nutritious oil to their bathwater and also use it in a variety of recipes, from main dishes to salads and broth. Thanks to its long shelf life, this oil has also gained recent popularity in the U.S. It's commonly used in perfumes, cosmetics, soaps and dietary supplements.
With its high antioxidant content, gingelly oil protects against oxidative stress and neutralizes free radicals. According to a 2015 study published in the Journal of Medical Food, it may suppress inflammation and reduce plaque buildup in the arteries. In the long run, it helps improve lipid metabolism and may lower the risk of atherosclerosis.
If you're looking for additional foods to add to your heart-healthy diet sesame seed oil may be the way to go. A 2018 review study published in Critical Reviews in Food Science and Nutrition confirmed that there was evidence that sesame oil may play a role in decreasing blood pressure levels in people with hypertension. However, due to bias in many of the studies included in the review, the authors suggested more standardized clinical research to confirm these cardiovascular benefits.
Sesamin, a compound that occurs naturally in sesame seeds and found in the oil, has been shown to lower cholesterol levels. It does so by promoting the excretion of sterols and regulating the genes that influence cholesterol metabolism.
Fight Free Radical Damage
Gingelly oil can be a powerful ally against premature aging and oxidative damage. According to a 2017 research article published in The Journal of Nutritional Biochemistry, this healthy fat decreases oxidative stress in cardiac hypertrophy and inhibits certain genes that affect cardiovascular function.
Vitamin E, one of its key nutrients, protects against brain cell loss and age-related DNA damage. Furthermore, this fat-soluble vitamin offsets the harmful effects of free radicals on your cells and may improve cognitive performance. In clinical trials, it has been shown to enhance cognition and prevent or delay cognitive decline in seniors and patients with Alzheimer's disease.
Vitamin E is also used in dermatology for its ability to slow the aging process and protect cells from free radicals. This nutrient may delay the onset of chronic illnesses associated with oxidative stress and improve gene expression. Adding sesame oil to your meals is a good way to get more vitamin E in your diet.
Eat fat to burn fat — does that sound familiar? Nutritionists recommend eating more fats for good reason. Sesame seed oil, for example, is rich in healthy fats that suppress hunger and improve appetite control, making weight loss easier.
Sesamin, a lignan found in this oil, has been shown to reduce the body adiposity index, hip circumference and waist circumference in people with diabetes, according to a 2016 study published in the Journal of Dietary Supplements. Additionally, it improved glycemic status and decreased inflammation. These findings suggest that gingelly oil may support fat loss and overall health. To get the most sesamin out of your gingelly oil, use virgin or roasted sesame oil instead of refined oil.