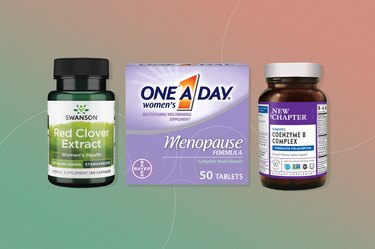 Estrogen levels dip as a person approaches menopause. And that can trigger some uncomfortable symptoms, such as mood changes, insomnia, lowered sex drive and hot flashes, says Felice Ramallo, MSCN, RD, a lead dietitian at Allara, which offers virtual care for people with PCOS.
People who have these symptoms may be interested in increasing their estrogen levels, says Ohio-based ob-gyn Kim Langdon, MD, of Medzino, an online doctor and pharmacy company.
And it's not just menopause that can lead to low estrogen levels, Ramallo says. Some procedures — such as chemotherapy and radiation — as well as having low body fat, pituitary gland conditions and premature ovarian failure (POF) can also lead to low estrogen, she says.
Can Vitamins Increase Estrogen?
There are no vitamins that can increase estrogen levels, Dr. Langdon says.
Ramello agrees: "There are no foods or vitamins that can be taken and directly turn into estrogen in the body." And, she notes, "it is unlikely that a food or vitamin will correct clinically low levels [of estrogen]."
But that doesn't mean taking supplements isn't potentially helpful when it comes to easing menopause-related symptoms or alleviating other symptoms (such as bone loss) that may occur with lower levels of estrogen.
If your estrogen levels are low — or if you're experiencing uncomfortable symptoms — make sure to schedule an appointment with your doctor.
While you may be able to easily get supplements without a prescription, talk to your doctor before adding them to your routine. That way, you can ensure there aren't any negative interactions with other medications you're taking.
Supplements That Might Help With Menopause Symptoms
A number of vitamins and supplements come up in conversation around estrogen levels, including those listed below. There are varying amounts of research into the effects of these supplements, and they may not be safe for everyone to take.
Always talk to your doctor before starting these or any other supplements.
We spoke with doctors and dietitians as well as reviewed relevant research to recommend the supplements below.
We also looked for products with Current Good Manufacturing Practice regulations enforced by the FDA as well as compliance or verification from one of the three main independent quality control groups that test and review supplements:
For more information on how we choose and cover products, click here.
Tip
Seek out supplements that are third-party certified and look for seals from NSF and USP. "This ensures you are buying a supplement that is free of toxic contaminants and contains the amount of nutrients that it claims," Ramallo says.
1. Ritual Essential for Women Multivitamin 18+
Pros
USP-verified
Contain vitamins for bone health
Cons
Contains a mint essence, which some people may not like
"Though they do not promote estrogen production, a good quality multivitamin with vitamin D, vitamin K and boron may help with preventing the bone losses associated with low estrogen," Ramallo says.
Ramallo recommends this vitamin from Ritual. It contains 2,000 IU of vitamin D, 0.7 milligrams of boron and vitamins E, B12 and K2. This multi is USP-verified.
2. Swanson High-Potency Red Clover Extract
Pros
Helps relieve night sweats
Contains 430 mg of red clover
Cons
Contains gelatin, so not the best for vegans
Opt for a supplement that includes a minimum of 40 milligrams of total isoflavones, according to ConsumerLab. This supplement from Swanson has 430 milligrams per capsule.
3. Bayer One a Day Women's Menopause Formula
Pros
Contains other essential nutrients like vitamin C, D, E and calcium
ConsumerLab approved
Cons
Can cause stomach upset in some people, according to reviews
Soy isoflavones may help reduce hot flashes and vaginal dryness, per a June 2016 meta-analysis in ‌JAMA‌. This once-daily supplement contains 60 milligrams of soy isoflavones.
It's also a source of several other key vitamins and minerals, including vitamins C, D and E and calcium and zinc. This one's approved by ConsumerLab.
4. Nature's Bounty Black Cohosh
Pros
Soy-, gluten-, yeast-, fish- and lactose-free
ConsumerLab approved
Widely available
Cons
Can leave a taste in your mouth, according to reviewers
The herb black cohosh may help cut down on some of the symptoms of menopause, Dr. Langdon says. Black cohosh has been used for generations in Indigenous and Chinese medicine, helping to relieve the symptoms of many gynecological conditions, such as PMS, cramps and menopause, per the Cleveland Clinic.
This particular supplement is approved by ConsumerLab and is free from soy, gluten, yeast, fish and lactose. It's also affordable and widely available at many drugstores.
5. New Chapter Vitamin B Complex
Pros
NSF-certified
Fermented to offer probiotics
Non-GMO
Cons
Some reviewers say the pill is too large and can be hard to swallow
B vitamins are essential for your body. Ramallo recommends New Chapter Vitamin B Complex. It contains vitamins B12 and B6, biotin, riboflavin, thiamin, niacin, folate and pantothenic acid.
"This one also contains fenugreek and maca, two herbal supplements that have some evidence for improving estrogen levels," Ramallo says. This pick is NSF-certified.