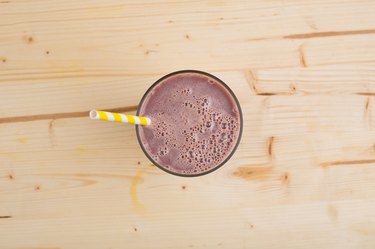 SlimFast is a weight-loss meal replacement and supplement company with seven lines and multiple products. The lines include SlimFast Keto and SlimFast Diabetic Weight Loss, making the SlimFast brand appeal to people with a wide variety of eating styles.
SlimFast recommends specific plans for the different types of diets in order to induce weight loss. Healthy recipes with lean protein and plenty of vegetables are provided on the company's website.
What Is a SlimFast Diet?
A SlimFast diet plan consists of replacing any two meals with shakes, bars or cookies, eating one portion-controlled healthy meal of choice, and consuming three 100-calorie snacks in between. Drinking SlimFast shakes three times a day is not recommended. However, SlimFast does offer 100-calorie pre-portioned snacks that can be used as one of the three snacks per day.
SlimFast provides information on how to best go about a diet incorporating two meal-replacement SlimFast shakes. The company says to avoid sugary beverages like juice and soda, to drink enough water and to get 30 minutes of exercise each day.

In order to maintain a stable weight after the desired amount of weight loss is achieved, replace only one of your meals, per day, with SlimFast shakes. Men should add 200 calories to each meal replacement, use two scoops of shake powder, or add a mini-meal.

It's important that you consult with your doctor before setting out on any new weight-loss plan. They can advise you on the safest and most effective way to pursue your goal.
Is a SlimFast Diet Effective?
A January 2019 systematic review and meta-analysis of studies on meal replacements, such as SlimFast shakes, in the journal Obesity Treatment observed that the use of these products led to significantly greater weight loss after one year than other weight-loss plans that were based on conventional foods alone. No adverse effects were reported.
An August 2018 clinical study in the Journal of Obesity revealed that meal replacement shakes are effective for weight loss but are not sustainable due to severe energy restriction.
The review showed that body weight, body mass index, fat-free mass and body fat mass all improved. Metabolic improvements were seen as well with blood glucose. Further improvements that occurred only in male subjects were seen with systolic and diastolic blood pressure and visceral fat.
An April 2019 review in Obesity Reviews agreed that liquid meal replacements lead to reductions in body weight in moderate amounts, and also improve BMI, systolic blood pressure, body fat, weight circumference, HbA1c, fasting glucose, fasting insulin and diastolic blood pressure. They do urge that more studies of higher quality are needed to provide further certainty for these statements.
Is SlimFast a Healthy Option?
With all of this data pointing to the effectiveness of a SlimFast diet, it is easy to believe that this could be a healthy option for weight loss. This may well be the case for some people, however, Harvard Health urges people to consult their doctors before replacing meals with these shakes. They caution that some shakes provide too much sugar, and some contraindicated vitamins that could affect certain medications.
Moreover, Harvard Health explains that these meal replacements cannot provide the same quality nutrition as real, whole food provides. The vitamins and minerals are fortified, and not in their whole-food form. Harvard Health's experts recommend creating your own healthy smoothies with whole fruit and vegetables, or buying a whole fruit and vegetable smoothie in the refrigerated section of the grocery store.