Sweet, juicy, plump and deeply colored, blueberries are easily found in grocery stores when in season. They are also popular with many home gardeners and can sometimes be found growing naturally in the wild. Blueberries are rich in a number of nutrients, including dietary fiber, which can help alleviate and prevent constipation over time.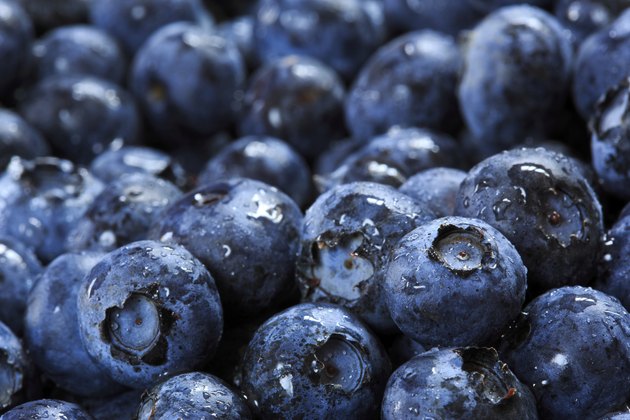 Causes of Constipation
Symptoms of constipation can vary, leading to stools that are harder, larger or smaller in size or lumpier than usual. It can affect a person at any age and can be short term or chronic. Symptoms of constipation include discomfort and possibly intense pain. Constipation can be caused by a number of factors, including an insufficient amount of dietary fiber in your daily diet. Without enough fiber, there is insufficient bulk in your diet to produce stools and retain enough liquid during the digestive process.
Dietary Fiber Benefits
Fiber is a naturally occurring substance in fruits, vegetables, nuts, legumes and grains. It is well-known for its ability to treat and prevent constipation in the long term, as well as other digestive tract disorders, including hemorrhoids and diverticulosis. The American diet is typically low in dietary fiber, with adults consuming less than the recommended 21 to 38 grams of dietary fiber per day.
Fresh Blueberry Nutrient Profile
Blueberries, like other fruits, are naturally high in a number of nutrients, including dietary fiber. A 1-cup serving of fresh, raw blueberries has 3.6 grams of dietary fiber, while the same-size serving of frozen berries has 4.2 grams of dietary fiber. A 1/4-cup serving of dried blueberries has 3 grams of dietary fiber. Blueberries are relatively high in dietary fiber compared to other fruits. For example, strawberries have only 3 grams of dietary fiber per 1-cup serving, and apples with the skin have even less, 2.5 grams of dietary fiber per cup.
What Kind of Blueberry Is Best
Blueberries can be found year-round in supermarkets as a frozen food item, where the quality and nutritional content of the fruit is not compromised. During the spring and summer months, blueberries can also be purchased fresh in supermarkets and farmers markets. Dried blueberries are more commonly found premixed with other ingredients, such as granola, although you can sometimes find them for purchase in the specialty foods section of select health food and grocery stores. When selecting frozen or dried blueberries, choose the unsweetened variety to reduce the number of calories you consume. Similarly, avoid canned blueberries as these are frequently packed in syrups that are high in calories and low in nutrients.