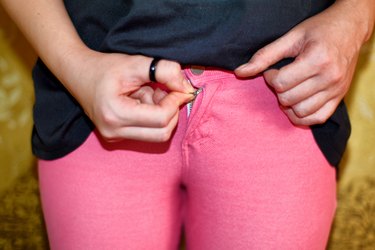 Excess belly fat is a common problem for many women. Clinically known as visceral fat, excess belly fat increases your risk of developing cardiovascular disease, diabetes and some forms of cancer. While poor diet and physical inactivity are contributing factors, others include hormonal changes, age, stress and hereditary factors.You can generally reduce belly fat through a combination of aerobic exercise, healthy diet and targeted strengthening abdominal exercises.
Heredity
Heredity is a culprit when it comes to women and belly fat. 2012 study published in the journal "Diabetes" found that women are more sensitive than men to an enzyme triggered by Vitamin A, found in dietary fat. The enzyme induces a release of hormones that promote fat storage in women more than men. A 2010 study published in the "Journal of Obesity" pointed to hereditary factors as responsible for the development of excess belly fat in some women. Based on your genetic makeup, you may have simply inherited a predisposition for accumulating fat in your abdominal area. While you can reduce belly fat through aerobic exercise and tone your abdominal muscles with targeted strengthening exercises, you may simply be fighting nature if you have an inherited tendency for gaining fat in your belly area and you expect to develop a perfectly flat stomach.
Aging
As you age, your body's production of the hormone dehydroepiandrosterone, otherwise known as DHEA, begins to decline. According to Harvard Women's Health Watch, some studies have linked this decline with an increase in the accumulation of abdominal fat, although other studies have shown no link at all. While the results of DHEA's effect on belly fat are still inconclusive, some health practitioners believe that supplementation of DHEA can lead to a reduction in abdominal fat. Additionally, as you age, your metabolism begins to slow down, which can be another possible age-related cause of excess belly fat.
Stress
According to a 2000 study by Elissa S. Epel, Ph.D., and fellow Yale University researchers, women who are more prone to stress yet otherwise healthy and not overweight are more likely to have excess belly fat. This study showed that certain women are more susceptible to the effects of the stress hormone cortisol, which is responsible for the accumulation of fat around your organs and the development of excessive amounts of abdominal fat.
Hormonal Changes
Hormonal changes associated with menopause are another common culprit behind excess belly fat. According to Yale University, menopause causes a decrease in the production of the sex hormones such as estrogen, leading to the development of increased abdominal fat. Additionally, menopause leads to a shift in the location where your body stores fat, changing from being stored in your arms, legs and hips to your abdominal area.